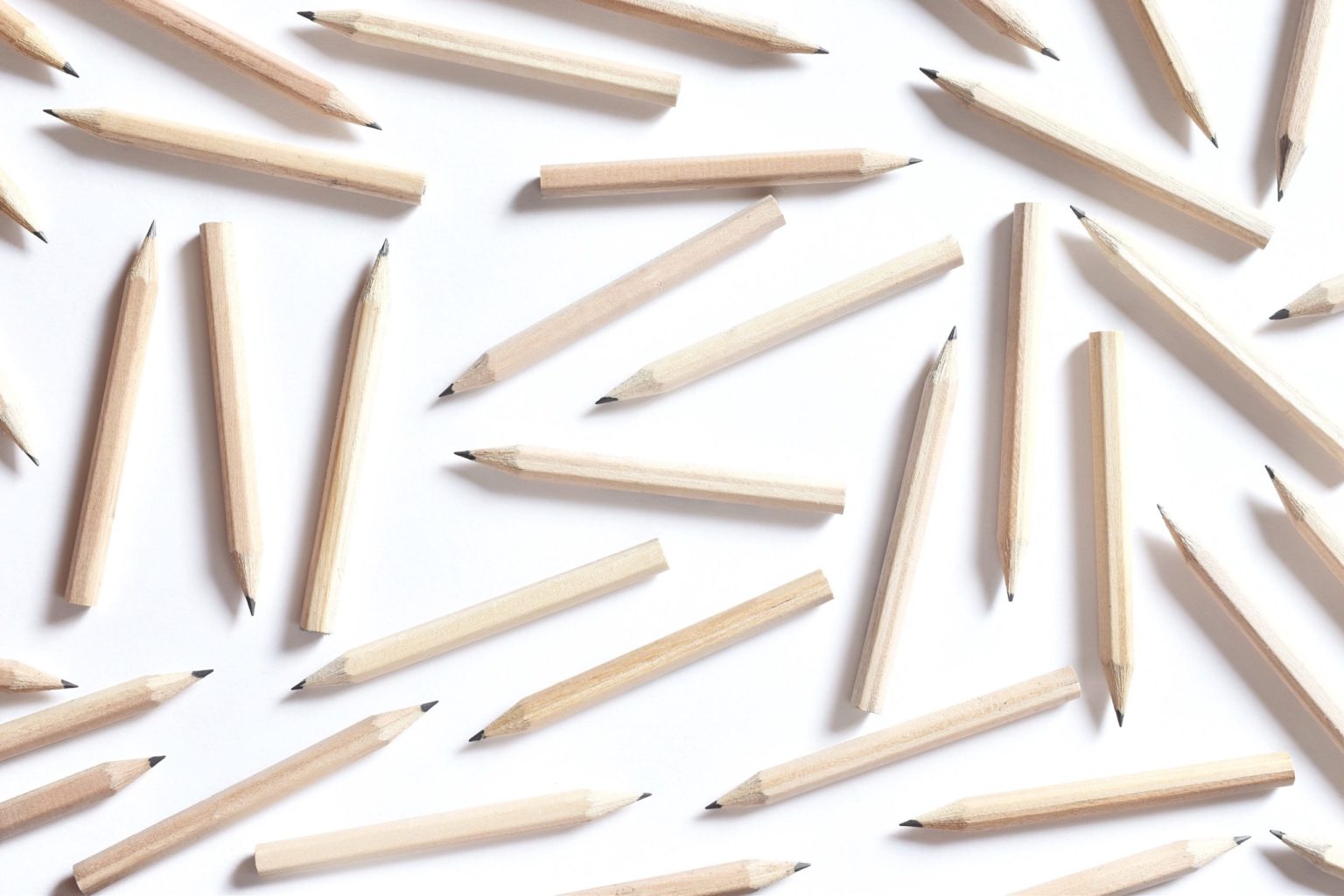 Strategy
Cross-Channel Marketing: What it is & How to Build a Strategy
It's a great time to be a retail marketer. You now have more tools than ever at your disposal to acquire new customers and engage with existing ones.
From email and web to social and search, there's no shortage of opportunities to launch new campaigns, test ideas and strengthen customer relationships. Of course, using all of the available channels effectively and seeing the desired results requires a strategic approach to cross-channel marketing that keeps a close eye on how audiences are targeted. In this blog post, we'll take a closer look at what cross-channel marketing is and learn how to reliably target consumers over multiple channels.
What is Cross-Channel Marketing?
Cross-channel marketing, sometimes referred to as multichannel or omnichannel marketing, is a technique designed to deliver a consistent brand experience for consumers across multiple channels. 
Cross-channel marketing is  often done by using large datasets to create personalized campaigns that engage customers where they already are. This includes:
Email

Direct mail

Social media

Search engines

Pay-per-click advertising

Online storefronts
Each marketing channels needs to work together to bring your target customers one step closer to making a purchase. While orchestrating and implementing a cross-channel strategy may seem intimidating, having a retail-specific marketing solution will provide the tools and capabilities necessary to help you enjoy all the benefits that cross-channel marketing has to offer.

The Benefits of Cross-Channel Marketing
With so many channels available to consumers, retail marketers cannot afford to put all their eggs in one basket. For instance, did you know that the average American consumer has 9 social media accounts? Even if most of your target audience is active on a single channel, you should still have a persistent presence on each of the platforms they use if you want to win their favor and drive sales.
Having a presence on multiple channels and a marketing strategy designed to stretch across all of them makes your brand more likely to reach consumers exactly when they're primed to engage — and you can play to the strengths of each channel by maximizing the impact of each touchpoint. It also leads to a number of benefits for your business:
Improved Customer Loyalty

: Cross-channel marketing allows for personalization and personalization leads to improved customer loyalty. By giving your customers the information they want in the places they want, they are more likely to view your brand favorably and become repeat customers.
Increased Engagement:

Cross-channel marketing prevents the disconnect we so often see in marketing.

For instance, having an Instagram influencer show off your product may generate plenty of awareness and interest, but won't necessarily drive sales or engagement. However, if a customer opens their email inbox and finds a

personalized recommendation

for the same product, they may be more likely to take action after seeing the influencer's endorsement
Omnichannel Metrics

: When utilizing multiple marketing channels, understanding performance and attribution can be challenging. A true cross-channel marketing strategy will take all of your data and give you a truer sense of which channels are working and which aren't. Improved ROI is always the name of the game.  
Since your customers frequent an array of digital channels, your digital marketing campaigns must do the same. However, it's crucial to ensure your brand targets these campaigns to the right audiences and keeps those campaigns consistent across multiple channels. Let's dive into how your retail brand can start building cross-channel audiences today.
How to Build a Winning Strategy for Cross-Channel Targeting
Taking a strategic approach to targeting audiences across multiple channels requires starting with your goals for each campaign. From there, you can layer in various customer attributes or behaviors to get more targeted with each group as you drive them to take your desired actions.
Let's take a look at what that type of strategic approach entails by outlining best practices for building cross-channel audiences based on common goals.
Cross-Channel Goal #1: Acquire New Customers
Before creating a marketing strategy, it is essential that your business understand the audience. With rich information on your customers' behaviors, habits, preferences, and preferred forms of communication you can develop the proper strategy moving forward. But where do you find the prospects and data to inform your next step? 
If you're like most retailers, you use Facebook's lookalike models to power customer acquisition and do so by building an audience of your most valuable customers. But how do you know who your most valuable customers are?
The majority of retailers prospect on Facebook based on target demographic and interests and by uploading a list of past purchasers and CRM data. However, past purchase history alone doesn't indicate what someone is likely to spend in the future.
Using a predicted customer lifetime value model can help you look beyond past spend to evaluate which customers will continue to be most valuable for your brand. This model should look at signals like frequency of site visits and behavior during site visits to make these predictions.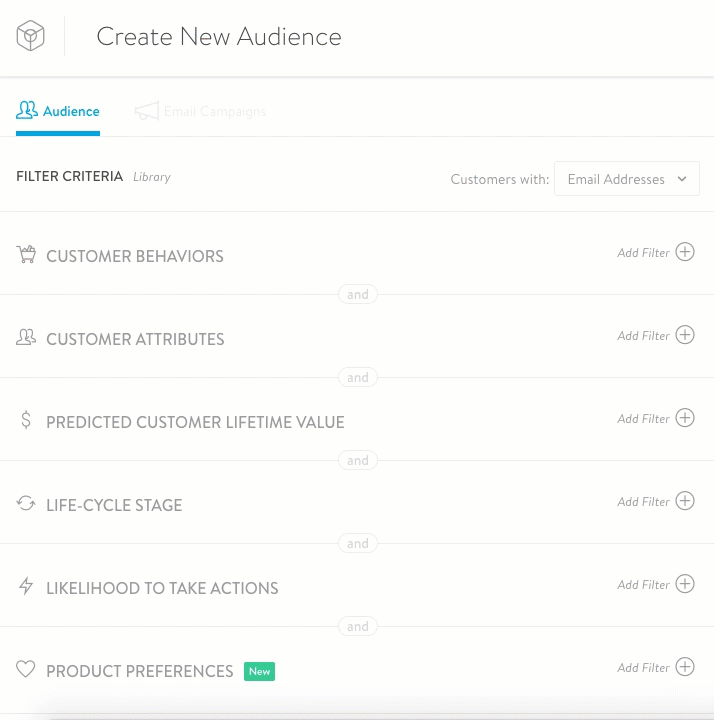 Once you filter your audience for predicted customer lifetime value, you have a strong base for acquiring new high-value customers. But how will you entice those shoppers to make their first purchase? To properly target them — and therefore improve the performance of your advertising — you need to layer in affinity models, such as product or discount affinity. This filter allows you to customize ad sets to a very specific group based on likely preferences. It's the difference between showing a generic brand image and getting a potential customer's next great find in front of them.
Ultimately, combining predicted customer lifetime value with affinity enables you to build smarter lookalikes and serve those potential customers with more robust ad sets to improve customer acquisition. For one office supplies retailer, this approach led to a 48% increase in return on ad spend (ROAS).
Cross-Channel Goal #2: Retarget Shoppers
When it comes to retargeting, you might use a mix of channels to get in front of customers who recently engaged onsite, target customers who didn't open or click emails or reach customers with a high likelihood to unsubscribe from emails.
The first step in building a cross-channel audience for retargeting is to determine exactly who you want to reach, whether it's one of the groups listed above or another group entirely. Once you have that base audience, you can begin to layer in affinity models such as product, category or discount affinity.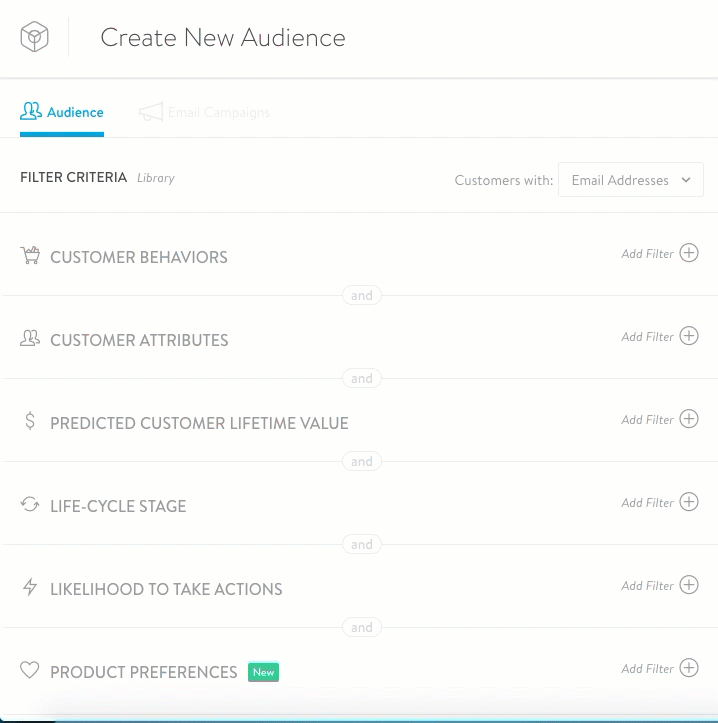 Using product and category affinity models can help you get more targeted about what you promote to customers so that you don't have to use a generic adset. Instead, you can retarget customers with the products they are most likely to be interested in and are therefore most likely to get them back on your site.
Meanwhile, using discount affinity can help preserve margins and keep your full-price buyers from associating your brand with heavy discounts. For example, if you're having a sitewide sale, you might only promote that sale to recent shoppers with a discount affinity.
To get even more advanced, you can combine product or category affinity models with discount affinity so that you can target both discount and full-price buyers with relevant content and offers.
Cross-Channel Goal #3: Activate Non Buyers
Nonbuyers represent enormous revenue potential, but activating that potential often eludes retail marketing teams. While there are several types of emails that prove particularly effective at activating nonbuyers, sometimes you need to look elsewhere to give those shoppers the push they need to make their first purchase.
When you've exhausted your efforts over email, try flagging nonbuyers who have a high predicted customer lifetime value (again, based on signals like frequency of site visits and behavior during site visits).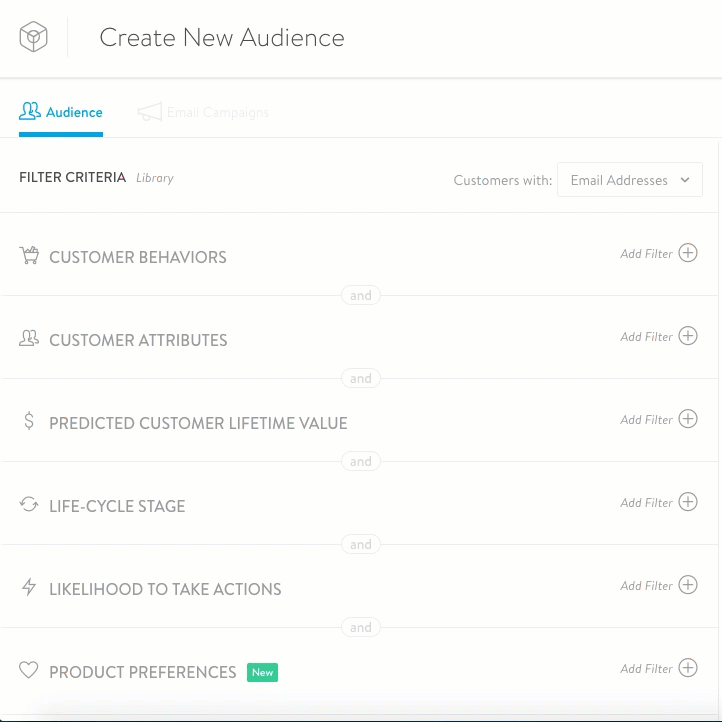 You can then target these shoppers through Facebook, search and/or display advertising with a special, value-based offer on their first purchase. That said, you should be wary about providing too many discounts to get new customers in the door, as this can turn into a costly promotion cycle that trains these shoppers to only buy with a discount. 
Cross-Channel Goal #4: Drive More Second Purchases
The one-and-done buyer problem is far too rampant in the retail world. Just look at apparel retailers, for whom 80% of customers are one-time buyers. This breakdown is a problem, given that crossing the chasm from one-time buyer to two-time buyer leads to the biggest increase in the likelihood of customers buying again and the biggest increase in customer lifetime value. But it's a solvable problem.
Among the numerous steps you can take to increase your second purchase rate, many involve targeting your one-time buyers across channels. For example, you might build an audience of customers who made their first purchase within the past month and advertise to them through Facebook or display networks.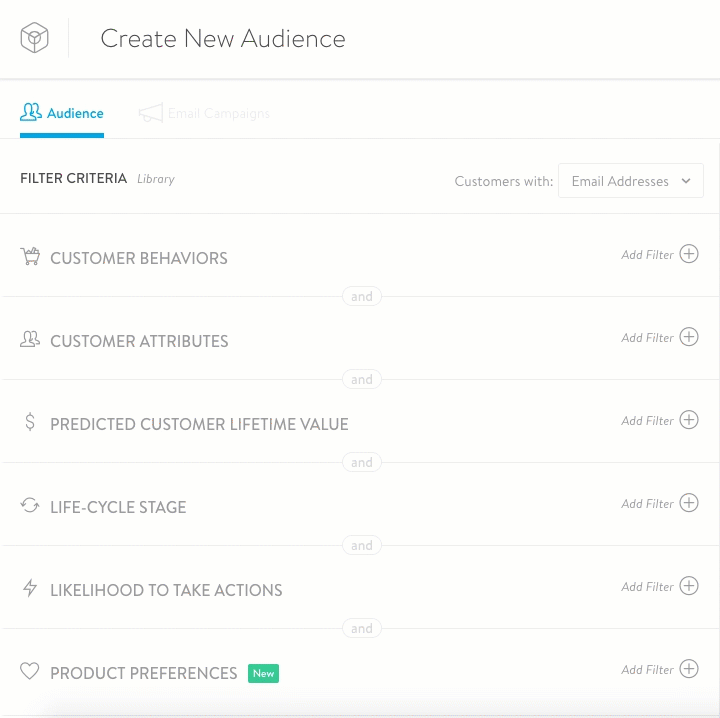 As you build these ads, consider how you can customize the products featured based on each customer's first purchase and look for opportunities to weave in "come back" messaging. You might even add a limited-time incentive on second purchases to create a sense of urgency, particularly around the holiday season.
Cross-Channel Goal #5: Consistently Analyze Your Insights
There is power in cross-channel marketing campaigns, and one of the best ways to capitalize on these efforts is by meticulously analyzing your data. 
Insight-based customer engagement adds value to your business by integrating AI-supported models that support targeted customer interaction with your cross-channel campaigns so that your company can track what is working and what is not. Running successfully across channels requires coordinated efforts from your team, the right data collection and analysis. Ask yourself the following questions: 
Do my social media and web strategy align?

How does my ROI compare across platforms?

Are the marketing campaigns offering the same message throughout the different platforms?
By tracking your progress, your business will have the opportunity to flourish in each platform all while maintaining a strong well developed presence in front of your consumer.
Challenges of Cross-Channel Marketing
Cross-channel marketing comes with its own set of challenges. The customer journey becomes more complex, your data set has expanded, and each marketing channel operates differently.
But these aren't the only challenges that come with cross-channel marketing. 
1. Improper Targeting
Running a multichannel marketing campaign can be overwhelming. How do you effectively reach the right target audience at the right time and in the right place? So much of the success has to do with selecting the right time to showcase your ads across platforms as well as what guidelines you should follow within each channel. Facebook, Instagram, Tiktok and LinkedIn all function very differently and it is important to keep that in mind. The tone and message also need to stay consistent across channels while providing unique individual advertising experiences for your audience. You never want to just apply one message across all of your channels.
2. Data Quality
Leveraging the power of your data can be difficult if you are not yet using a tool that does the heavy lifting for you. Think about it, the amount of data that companies have access to is huge and it's important to be able to know what data to look at specifically for relevance purposes. Without quality data, your company can't make informed decisions. 
3. Resource Allocation
Multichannel marketing offers a plethora of opportunities but also demands lots of time and in many cases, an additional budget. Running campaigns and analyzing insights can be difficult without the right resources. This is why you need an all in one marketing software that takes care of all the minute details so you can focus on running the company and offering your audience the best content and products.
How to Implement Cross-Channel Marketing
Expand your Data Model
To succeed in today's competitive market, most brands understand that having a technology built for personalization and scale is imperative. The traditional data models have data stored across multiple systems leaving it difficult to integrate any kind of strategy for cross-channel marketing. Now, the main goal to building your cross-channel audiences will be to connect your shoppers to relevant products in a moment of need- at scale, and this endeavor is only successful when you can accurately predict based on prior behavior. Using your data to take action will help power you through your marketing campaigns across channels.
Power Customer Segmentation
Bring the power of audience segmentation and personalization to your cross-channel audience. Ensure that your marketing message and product recommendations are relevant to every audience. Get a single view of audiences with a crm that powers customer insights across SMS, social media and email.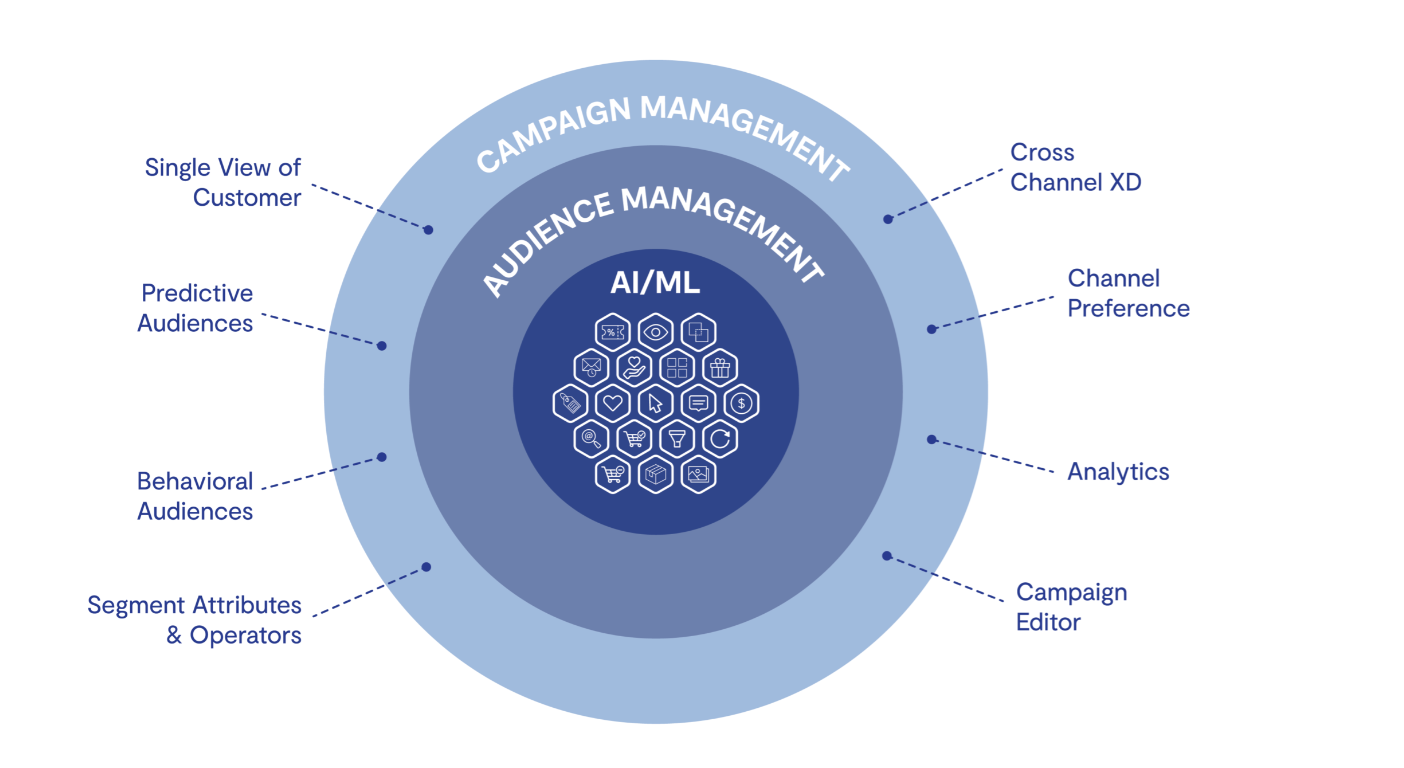 Use Smart Content
Using smart content elements across your channel marketing efforts will help convert your audience into customers. Configuring smart content involves using images with text buttons, and smart widgets all while showcasing personalized content with multiple creative aspects like targeting a specific gender. The goal of using smart content is to unify audience interactions. By creating set criteria with your customers' analyzed information you can then customize your content to match the viewers' needs.
Ongoing Optimization
Like most marketing efforts, building cross-channel audiences is all about trial and error. Using the data you receive to run experiments and adjust traits will continue to offer valuable information on your potential, new and old customers. Optimizing paid campaigns with AI-powered audiences will give your company intelligent first-party data that is indispensable. Ongoing optimizations are essential to the growth and visibility of your brand across channels.
It's Time to Get Smarter About Cross-Channel Targeting
A solid cross-channel marketing strategy is essential to competing in today's retail environment.  Whatever your top goals, the key to achieving them through a cross-channel strategy is to let your desired outcomes determine the direction for building and targeting your audiences. Then, use your retail-specific marketing solution to convert your ideas into action. Before you know it, you'll be on track to enjoying the revenue that a well-targeted cross-channel campaign can bring.