Over the past several weeks, brands have been hard at work adjusting messaging, content and offers to push more relevant products, connect with consumers in new ways and strike the right overall tone. But once you've made those immediate changes, what happens next?
It's unclear how long the current state will last, but we do expect it will be a while until everything starts to fully pick back up again. And that longevity requires a true strategy shift that extends beyond the initial adjustments. 
As you develop a longer term strategy around this new state, there are several important things to consider, especially as it relates to who your brand targets and how you target them.
Discounters Beware: Sales are Not a Sustainable Retail COVID-19 Response Strategy
A hot topic of discussion among retail marketers right now is whether or not to offer discounts and, if so, for what period of time given the unknown timeline of the current circumstances.
But here's the thing: A discount is not a long term strategy, does not give you leverage on your acquisition costs and will create an environment for your existing shopper base to pay at a discount versus creating loyalty through value.  
Beyond the fact that it's not sustainable for your business to continue offering discounts for an unknown period of time, discounts are never a relationship-driven approach for retail marketing. And what retailers need most right now is to develop meaningful relationships with customers. 
Specifically, a discount is an "in the moment" piece of value for consumers, but it doesn't create any sort of long term connection or loyalty. What's more valuable right now are non-sales related activities, like providing content and creating communities, that help strengthen loyalty and relationships among your best customers and that provide more long term value for how they use your products. Ultimately, these efforts should give those shoppers a reason to buy more now and stay loyal to your brand long term. As a result, brands will see the most success by doubling down on creating that value for existing customers instead of trying to attract first-time shoppers with a discount, which makes the payback on acquisition costs impossible.
The bottom line is, what delivers the most value for all of us in this moment is both the sense of community that comes from understanding that none of us knows what tomorrow will hold and taking steps to safeguard the greater good. None of that involves a 15% discount.
Break the Discount Cycle: 4 Considerations for a Value-Based COVID-19 Response Strategy 
Given that there's more value in taking a long term view for your retail COVID-19 response strategy, where should you start? Consider these four ideas for a value-based approach:
1) Introduce value-based offers instead of relying on deal marketing or excessive promotions
This can't be said enough, as the continuous slash and dash cycle is not a long term strategy. Focusing on deal marketing only attracts shoppers that are deal loyal. That is not sustainable for your brand, especially with unknown timelines in front of us. Further, if your brand doesn't discount normally, it can change your reputation and train shoppers to only buy with a discount.
Instead of focusing on deals to attract new shoppers or just drive the next purchase, think long term by focusing on your existing customer base and adding real value for them versus just a better price. For instance, offering free shipping, sharing highly personalized recommendations, offering great continued customer service, delivering companion content around your products and staying ultra-focused on relevant messaging are all more sustainable ways to continue connecting with your existing customers. 
Disney is one good example of a brand doubling down on the most relevant products for this time and accompanying their value with an offer that de-risks the purchase. Disney also acknowledges the need for people to ship products and anchors that offer in a cart size ($75+) that ensures pay-back for the brand.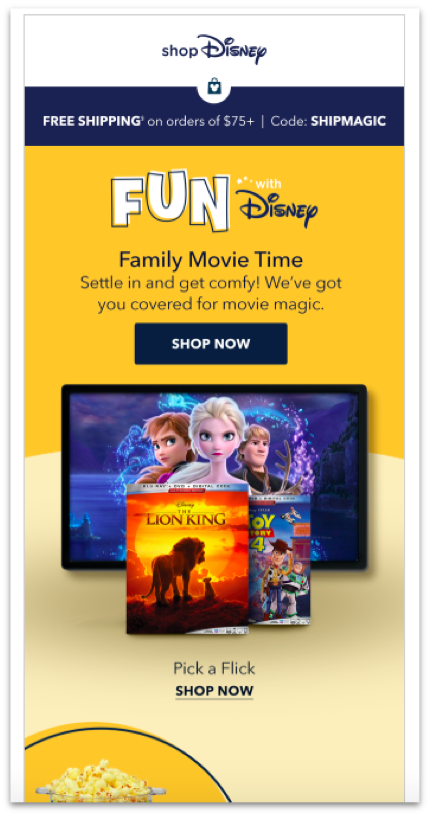 2) Double down on marketing to your best customers
Even before COVID-19, marketing tactics focused on customer retention versus acquisition offered better returns for brands. The current climate only makes this difference even more pronounced.
In the retail sector, ~80% of shoppers are one-time buyers, which puts a squeeze on climbing customer acquisition costs (which have grown even further since COVID-19 hit hard) and makes it nearly impossible to reap the benefits of customer loyalty. On the flip side, driving a second purchase from even 1% of those one-time buyers can lead to a 7% improvement in top-line revenue. And these baselines come from good times, meaning we can expect the difference to become even bigger in the current situation. As the data underscores, there's significant value in focusing on your existing customer list. 
Victoria's Secret has successfully embraced this approach. The brand's Pink product line has the largest loyalty cohort from women 18-24, which recently led the marketing team to create a campaign targeted to this loyal customer base. They didn't offer any discounts, just a meaningful message tied in with athleisure product recommendations.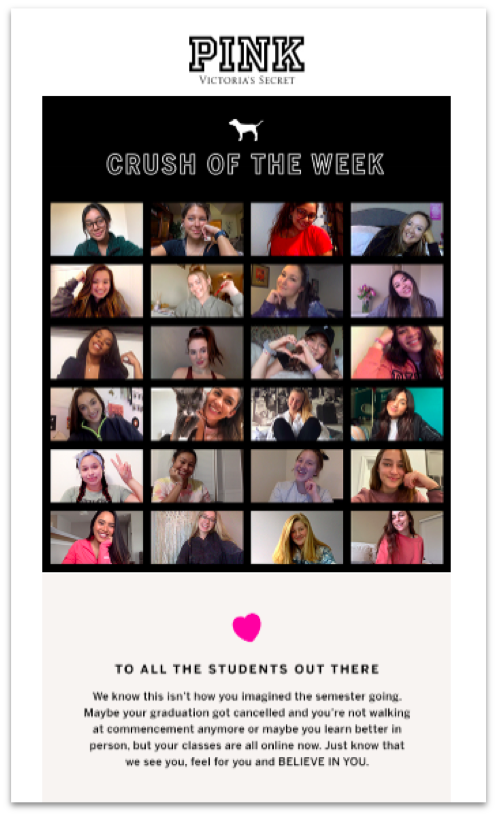 3) Focus on making it easier for shoppers to buy fast and smart
Every shopper is concerned about extended returns, inventory availability and shipping timelines, plus they want to make quick decisions. To meet these needs, focus on merchandising your promotions so information is easily available. Leaning on technology partners to automate those promotions in your marketing channels and on your ecommerce site will deliver an even bigger win. 
Nordstrom has done this particularly well. The brand has included critical COVID-19 related information on all touchpoints and focused on product recommendations that give shoppers choices and inspiration, all of which lead to a curated product page on Nordstrom's ecommerce site.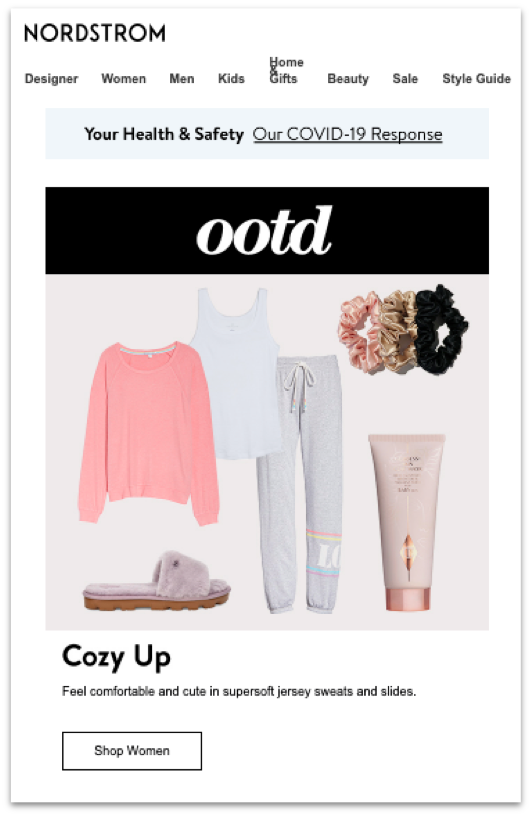 4) Balance deals with community-building
Of course all of this isn't to say that you shouldn't offer any deals, particularly if that's something your brand does normally. The most successful way to do this is to balance any deals with community-building efforts. Doing so gives the immediate benefit that comes from offering a deal, but ties that deal to a more memorable experience that helps create a more lasting relationship with shoppers.
Lele Sadoughi is one brand that's found a good balance between deals and community-building. The brand has started offering "virtual happy hours" with flash deals available only through Instagram. This approach encourages shoppers to engage with the brand on multiple channels, gives shoppers an outlet to connect with both the brand and each other and invites shoppers to bring their friends. Equally as important, it's a recurring event, which gives Lele Sadoughi multiple opportunities to engage customers and helps combat the one-and-done buyer problem.
It's also important to note that while Lele Sadoughi is still offering a deal, the deal is not only rooted in community but it's also a limited time offer on a single product, creating the feel of a special event.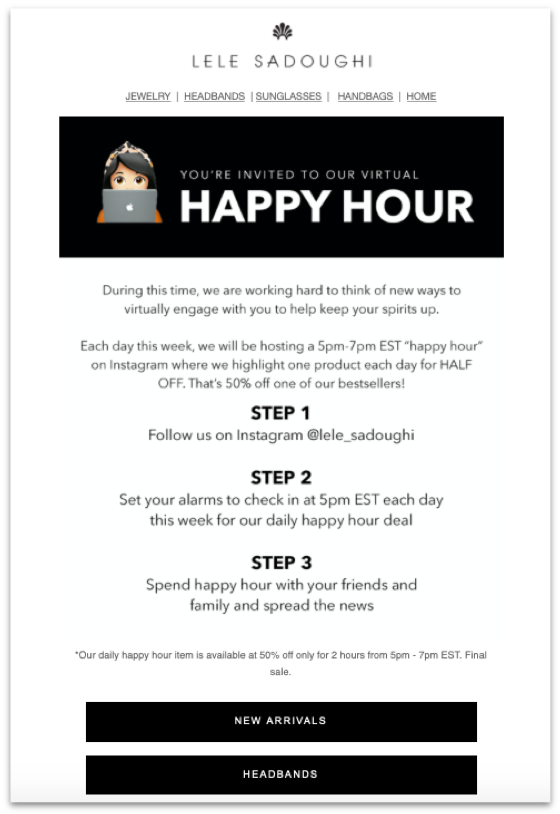 This is Not a Retail Holiday, But Opportunities Do Exist
What's happening right now is not a retail holiday, and tactics like those used around Black Friday-Cyber Monday fall flat as a result. First, Black Friday-Cyber Monday is a relatively short and defined period of time, unfortunately the COVID-19 situation is not. Second, Black Friday-Cyber Monday comes at a time when the sense of community is already high for most people and they really are just looking to buy. Right now, the opposite is true.
And as WWD contends: "The markdown cadence must be considered carefully. Retailers should determine if it's in the industry's interests as a whole, not just their own, to mark down merchandise so early after it's going to be received. What would be so wrong with a full-price season extended for four or so weeks longer? Start the promotions when the season is ending, not barely beginning. 
No one should take advantage of this crisis and try to dump merchandise on the consumer now in fear of having too much inventory at season's end. Rather, this season in particular needs to be rethought."
But even though it's not a retail holiday, opportunities do exist. There is a powerful opening for brands to create and support communities of shoppers in very meaningful ways. And those brands that can do so successfully will create lasting relationships that lead to loyal, lifelong customers.