FOR EMAIL AND MOBILE MARKETING
Built to execute 1:1 campaigns for retail — 90% faster.
Unlike other email and mobile platforms built for mass communications, Bluecore matches shoppers with their next great buy so marketers can drive lifetime value — without limitations.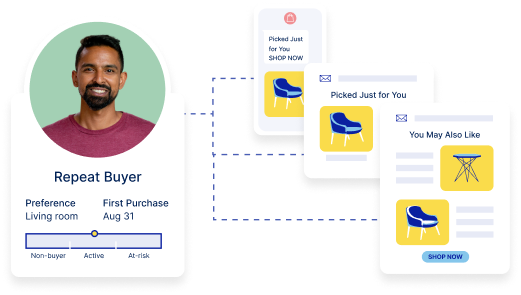 Create personalized campaigns — in minutes.
If you're used to:
Manually hard-coding recommendations into email and mobile templates based on stale data, all but guessing which products to recommend to which shoppers, and launching campaigns that lump shoppers into basic segments …
You can look forward to:
Automated workflows so you can stand up 1:1 campaigns in minutes — and drive the revenue you need now. Quickly and dynamically send the right content, offers, and recommendations to each shopper, in every email and mobile message.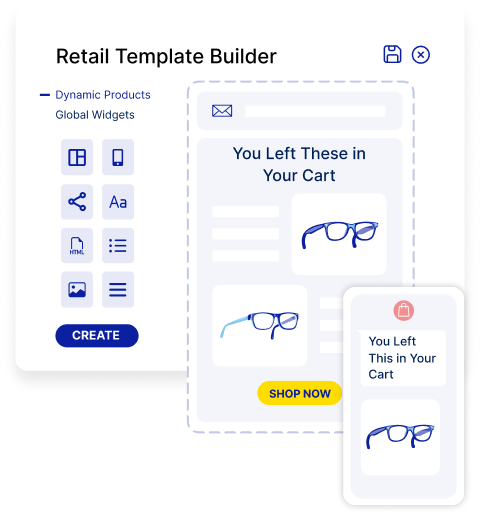 Launch and optimize a broad set of triggers that print money.
If you're used to:
Sending out mass messages based on a few core triggers like cart abandonment, with little to no ability to personalize, configure, experiment, or pivot on the fly …
You can look forward to:
A supercharged set of triggers within your full control that go way beyond abandonment. Set up behavior and product triggers — like back-in-stock, new arrival, and price-drop — to show shoppers the products they want to see, when and where they want to see them, recommend other products — and optimize without limitations.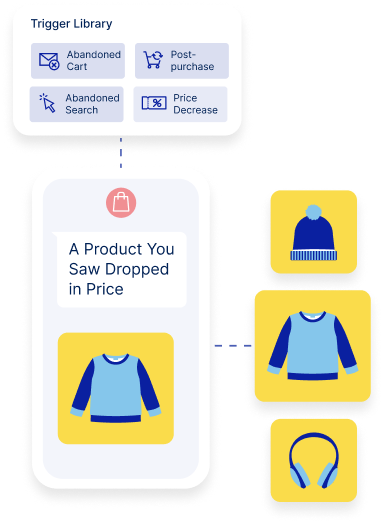 Create dynamic audiences that you can update at will.
If you're used to:
Endlessly pulling lists of shopper data that are already outdated by the time you see them, and scrambling to catch up with shopper behavior, intent, and preferences that change in the moment …
You can look forward to:
Easily creating intelligent audiences that are always responding to changing shopper preferences. Leverage billions of shopper, behavior, and product data points through built-in predictive models — like category and discount preference — that refresh dynamically, predict the next best action, and can be augmented with your own internal data science models.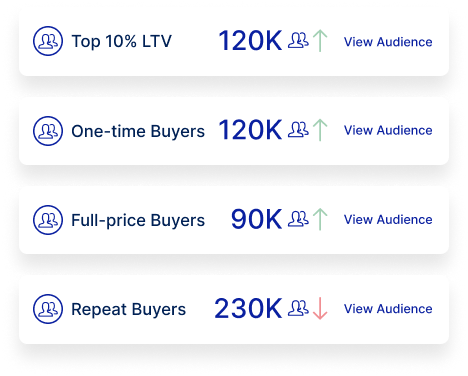 Coordinate email, mobile, and site campaigns — in one system.
If you're used to:
Disconnected experiences across email, mobile, and site that look like they come from different systems (because they do) — and tedious, manual data collection and analysis in an attempt to provide consistency for each shopper …
You can look forward to:
Consistent, personalized audiences and recommendations across email, mobile, and site, resulting in better conversion, AOV, and shopper experiences. Know where your shoppers are most likely to buy next, and message each and every one in the right channel for them, maximizing ROI.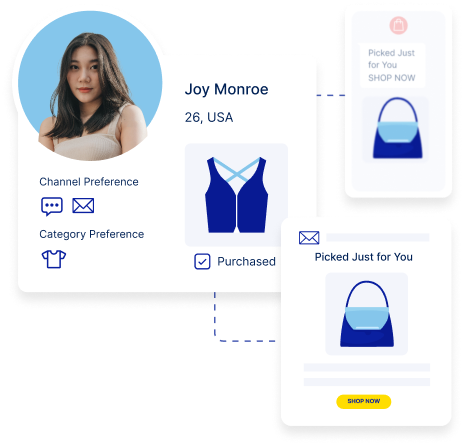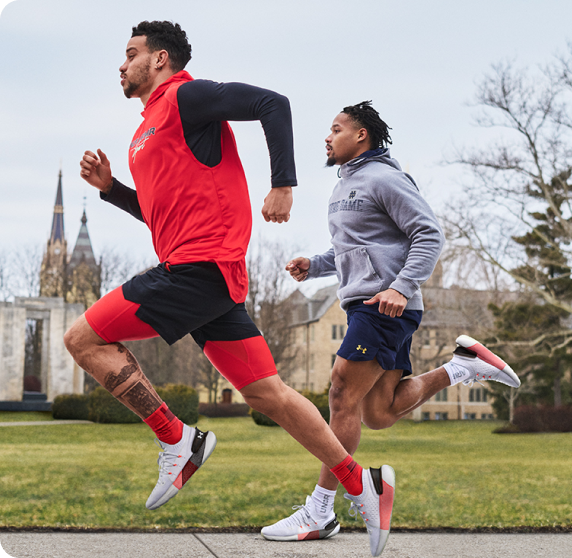 "The industry is changing quickly, and long-term success is about giving each shopper an experience that's entirely unique to them. With Bluecore, our team can quickly and easily create campaigns that are completely curated to the individual shopper without relying on lists and feeds."
Kaleena Zagrzebski
Former Director, Customer Retention + CRM Strategy | Foot Locker
Start small, scale as you need.
We power billions of messages for multinational clients and drive billions of dollars in revenue. With Bluecore's open and extensible platform, you can start anywhere, see value, and then hit the gas.

Unlock value from your tech stack.
Bluecore sits on top of your tech stack to accelerate the value of your current infrastructure. Integrate all your tech in a flexible platform that enhances your current solutions.

Learn from retail experts.
Partner with retail marketing experts to continuously test new strategies across channels — and optimize your programs to maximize revenue.

Get support tailored to you.
Bluecore's team is here to help you with a range of services that best suit your needs — from onboarding to full enablement and everything in between.

Meet regulatory compliance.
Ensure best practices with ADA, GDPR, CCPA, TCPA, CASL, SHAFT, and all email and SMS marketing data privacy and protection regulations — in the US and globally.