FOR WEBSITE MARKETING
Engage 100% of visitors — identify and convert them in session.
Rapidly execute one-to-one site campaigns to grow lists by 40% and conversion by 73% — faster than any black-box onsite marketing platform.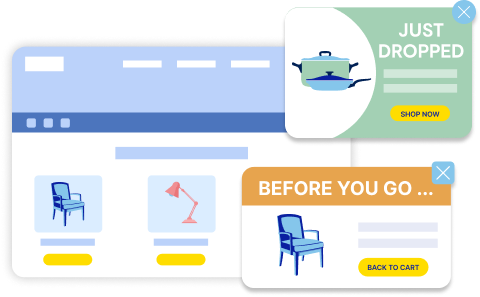 Turn anonymous traffic into known shoppers.
If you're used to:
Insufficient and anonymous data that you can't tie to shopper profiles — and the inability to build those profiles around behavior and preferences in the first place, resulting in ineffective communication …
You can look forward to:
Building profiles off of first-party data from the moment a shopper lands onsite (even before they are identified), automatically capturing identities through campaigns like exit intent and "while you wait," and providing superior, relevant shopping experiences for all your visitors. No login required.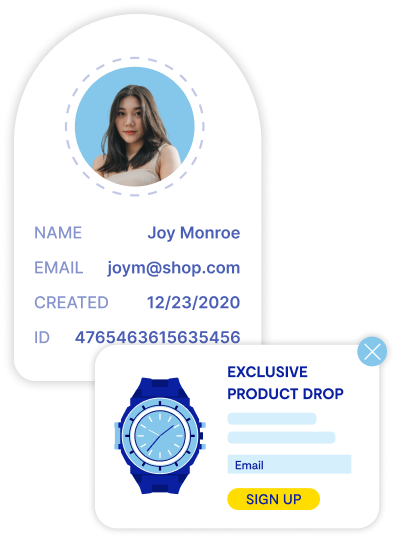 Create relevant audiences on the fly.
If you're used to:
Difficulty building audiences that target individual shoppers onsite, dealing with unknown data, managing cookie IDs, and connecting relevant contextual data from site to email — all in a reasonable timeframe …
You can look forward to:
Building intelligent, flexible audiences that you can easily update at will, powered by rich behavior and product data, and the ability to automatically respond to shoppers' preferences in real time — without custom tech configurations.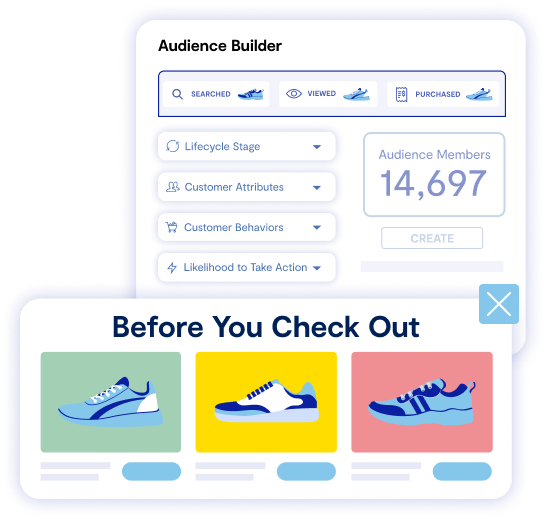 Trigger a broad set of campaigns for faster conversions.
If you're used to:
Lengthy processes to set up, configure, and launch site campaigns — and deploy tests to determine if they're working — only to be left in the dark about whether or not your efforts are having an impact …
You can look forward to:
Creating, optimizing, and launching campaigns as needed, all in one platform. With pre-built campaigns like exit intent and price drop, you can trigger the right set of onsite activations to drive faster conversions and increase average order value.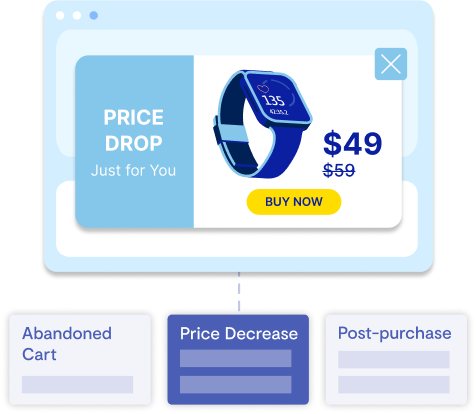 Coordinate email, mobile, and site campaigns — in one system.
If you're used to:
Disconnected messages across channels that lead to confusing shopper experiences, lost revenue opportunities, and a channel-first approach that puts shopper preferences last …
You can look forward to:
Creating a cohesive experience that contextualizes communications from channel to channel to drive engagement. Shopper's item out of stock? Provide a cross-channel "while you wait" experience. Shopper views but doesn't cart? Hit them with a well-timed email or mobile reminder, depending on their channel preference.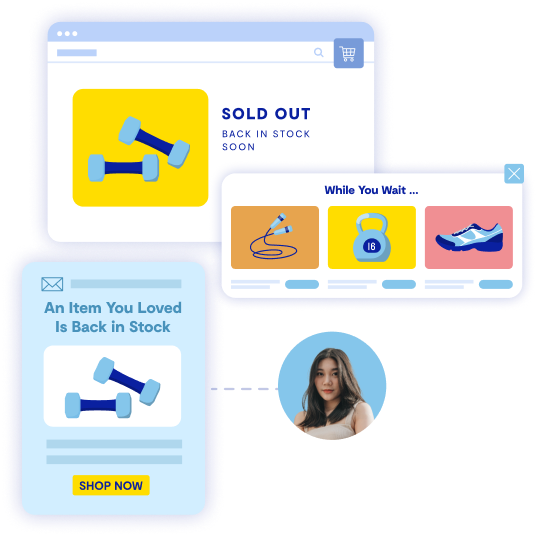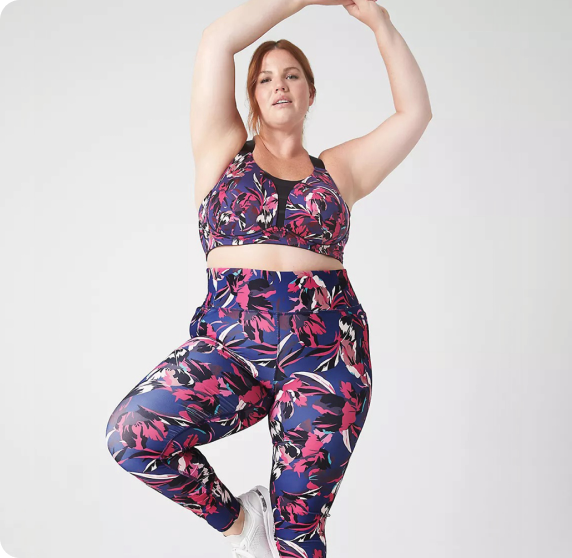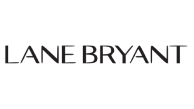 "Bluecore gives us the opportunity to optimize each shopper's onsite experience based on a unique profile. Now we can set up campaigns that say, 'if she does this, offer this … but if she does this, let's give this other option.' Being able to think through multiple iterations to improve engagement is a big win for us."
Michele Etgen
VP, eCommerce and Technology Strategy | Lane Bryant
Start small, scale as you need.
We power billions of messages for multinational clients that result in billions of dollars in incremental revenue. With Bluecore's flexible and extensible platform, you can start anywhere, see value, then hit the gas.

Unlock value from your tech stack.
Bluecore sits on top of your tech stack to accelerate the value of your current infrastructure. Integrate all your tech in a flexible platform that enhances your current solutions.

Learn from retail experts.
Partner with retail marketing experts to continuously test new strategies across channels — and optimize your programs to maximize revenue.

Get support tailored to you.
Bluecore's team is here to help you with a range of services that best suit your needs — from onboarding to full enablement and everything in between.

Meet regulatory compliance.
Ensure best practices with ADA, GDPR, CCPA, TCPA, CASL, SHAFT, and all email and SMS marketing data privacy and protection regulations — in the US and globally.