FOR PAID AND SOCIAL MEDIA MARKETING
Increase ROAS with fresh, automated audience data.
Drive lift in return on ad spend by up to 50% for acquisition campaigns — without manual segmentation of outdated data.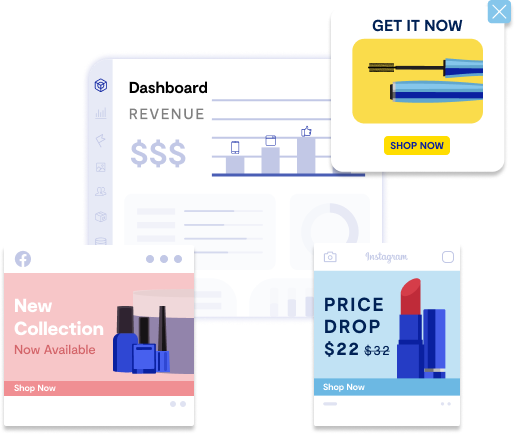 Sync the freshest audience data for better ad performance.
If you're used to:
The retail data you need not being available when you need it, resulting in outdated or irrelevant shopper experiences — and putting spend behind audiences that have either already purchased, or have little chance of converting …
You can look forward to:
Always-on audiences that instantly sync to your ad platforms so you always have access to the freshest data — and can put spend behind those shoppers that are most likely to purchase.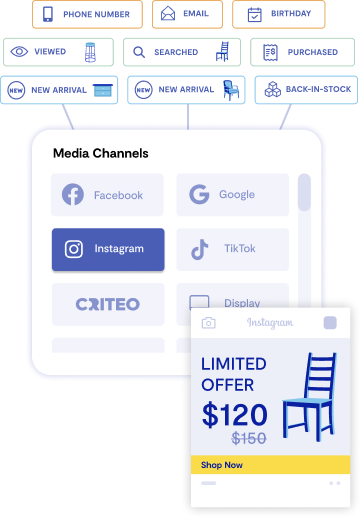 Create relevant audiences on the fly.
If you're used to:
Requesting, waiting for, and pulling lists of shopper data that's already stale the moment you see it — and manually uploading them into all your advertising platforms, again and again …
You can look forward to:
Building audiences without restraint around shoppers' past purchases, category preferences, predicted lifetime value, discount affinity, and more. Eliminate audiences you don't need, optimize the rest, and drive efficiency.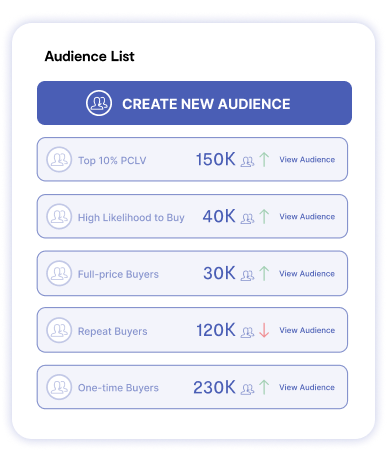 Predictive models that make your audiences smarter.
If you're used to:
No built-in foundation of predictive intelligence to improve ad performance, resulting in stagnant audiences with diminishing returns …
You can look forward to:
Audiences that get smarter as the built-in intelligence behind them gets richer and constantly incorporates, reacts to, and learns from live data — so you can get to the purchase faster, drive incrementality, and maximize return on ad spend.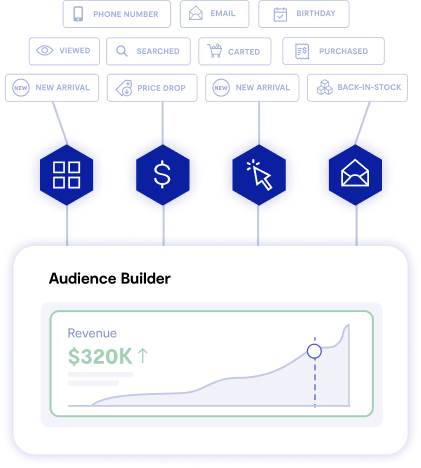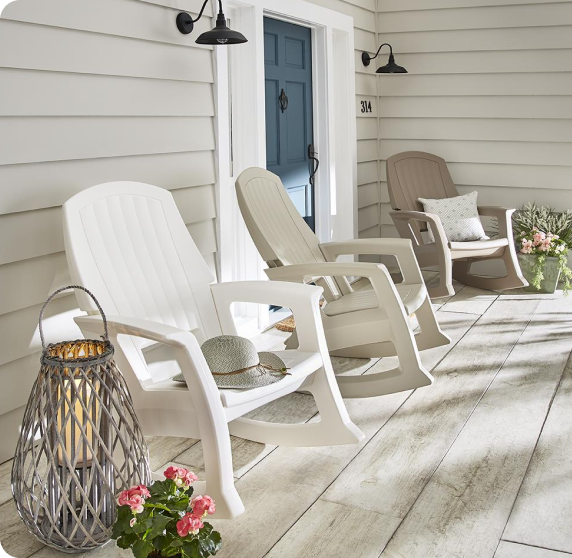 "Traditionally, Facebook has been expensive because we have older audiences and premium products, so we knew we had to have a smarter approach. Bringing the intelligence from Bluecore to Facebook has allowed us to be super efficient with our social spend and acquire new names outside of our typical customer base."
Ann Marie Resnick
VP, Marketing | Hammacher Schlemmer
Start small, scale as you need.
We power billions of messages for multinational clients that result in billions of dollars in incremental revenue. With Bluecore's flexible and extensible platform, you can start anywhere, see value, then hit the gas.

Unlock value from your tech stack.
Bluecore sits on top of your tech stack to accelerate the value of your current infrastructure. Integrate all your tech in a flexible platform that enhances your current solutions.

Learn from retail experts.
Partner with retail marketing experts to continuously test new strategies across channels — and optimize your programs to maximize revenue.

Get support tailored to you.
Bluecore's team is here to help you with a range of services that best suit your needs — from onboarding to full enablement and everything in between.

Meet regulatory compliance.
Ensure best practices with ADA, GDPR, CCPA, TCPA, CASL, SHAFT, and all email and SMS marketing data privacy and protection regulations — in the US and globally.