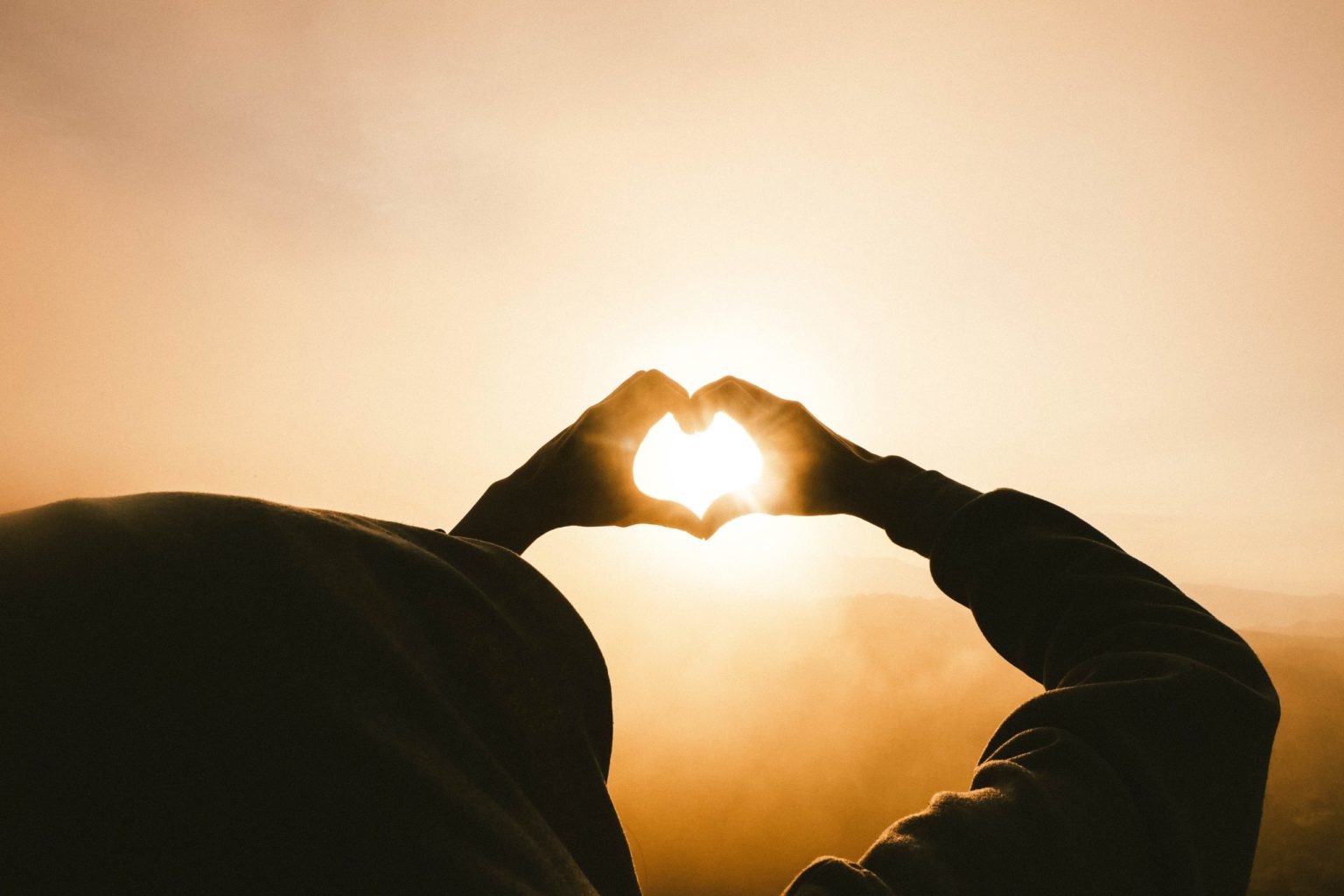 Inspiration
Recognizing Retail's Social Responsibility Around COVID-19
Social responsibility is not a new concept for retail, but the global crisis created by COVID-19 has renewed the focus on it for brands.
The outpouring of socially responsible actions we've seen from retailers around COVID-19 is an impressive show of community and goodwill, with the number of brands making donations of all kinds a bright spot in all of this.
Doing the Right Thing Now, Forming Connections for Years to Come
All of the brands taking a socially responsible position right now are making a difference far and wide. And while they're not asking for anything in return, they will see long term benefits from taking this type of stance.
According to Nielsen, 35% of consumers say corporate social responsibility is an important factor in their purchasing decisions. This number jumps to 42% among Millennials, 70% of whom also say they are more likely to purchase from a brand that handles a social issue well.
Looking at the bigger picture, social responsibility can help brands strengthen emotional connections with consumers, create more memorable experiences and be in a better position to attract both employees and investors.
Not every brand can afford a monetary donation like some of the ones outlined here, but there are other ways to take a stance too. From product donations to community support through access to counseling and at-home activities or even sharing content on engaging ways to use your brand's products at home, the opportunities are endless.
Even just adjusting the messaging in your marketing campaigns to acknowledge what's happening and that everything is not business or life as usual can make all the difference in forming lifelong connections with consumers during this uncertain time.
Retailers Embracing Social Responsibility Around COVID-19
From news-making headlines to brand emails to Instagram feeds, here are a few of our favorite examples of brands pitching in to support those affected by COVID-19.
Pausing Production to Make Medical Masks
Many brands are putting their own production needs aside to support the medical community by using their manufacturing infrastructure to make masks, which are currently in short supply, as well as other needed supplies like scrubs and gowns.
Some of the brands pausing production of their products to make medical supplies instead include Gap, Brooks Brothers, Vera Bradley, Eddie Bauer, Canada Goose and Uniqlo, to name a few of many.

Keeping Kids Fed, Even While School is Out
Several retailers have taken a stance to support organizations like No Kid Hungry that ensure kids have access to the healthy food they need while schools, which many depend on for breakfast and lunch, are out of session.
Brands like Never Fully Dressed and Alice + Olivia are donating a portion of sales, while brands like Stasher are doing a blanket donation and brands like West Elm are making it easy for shoppers to donate directly.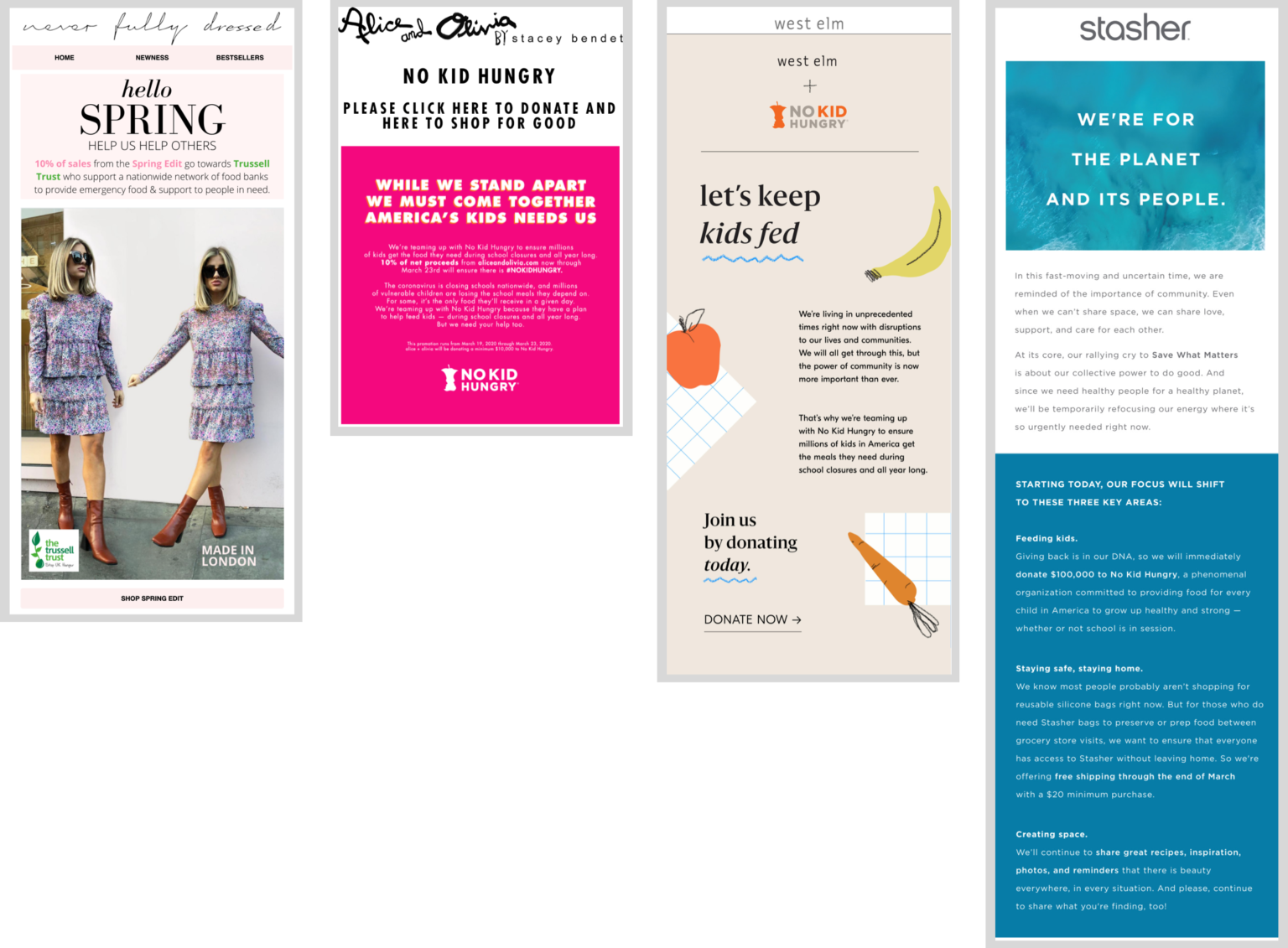 Bluecore has also taken this stance, donating to several food pantries local to our NYC headquarters.
Helping Ease the Strain on Healthcare Systems Worldwide
Global brands of all kinds have taken big steps to help ease the strain on healthcare systems by donating to organizations like the Red Cross and hospitals across China and Northern Italy.
Brands and conglomerates like L'Oreal, Kering, Giorgio Armani, LVMH, Moncler, Richemont Group, Hermès, Versace, Prada, Bulgari and Dolce & Gabbana have all made donations numbering in the millions of dollars/euro to support healthcare institutions.

Focusing on Community Safety
Next, several brands have taken a community-driven approach with monetary and product donations as well as mental health support.
Nike has donated $15 million to support local communities, including healthcare infrastructure and access to food, while Under Armour has pledged millions to both Feeding America and a Healthy at Home Fitness Challenge. 
LVMH has taken a unique approach, repurposing its perfume production lines to create hand sanitizer, which it will donate to French hospitals free of charge. And TOMS, which built its brand in part on social responsibility, is offering access to a crisis helpline for those who need mental healthcare.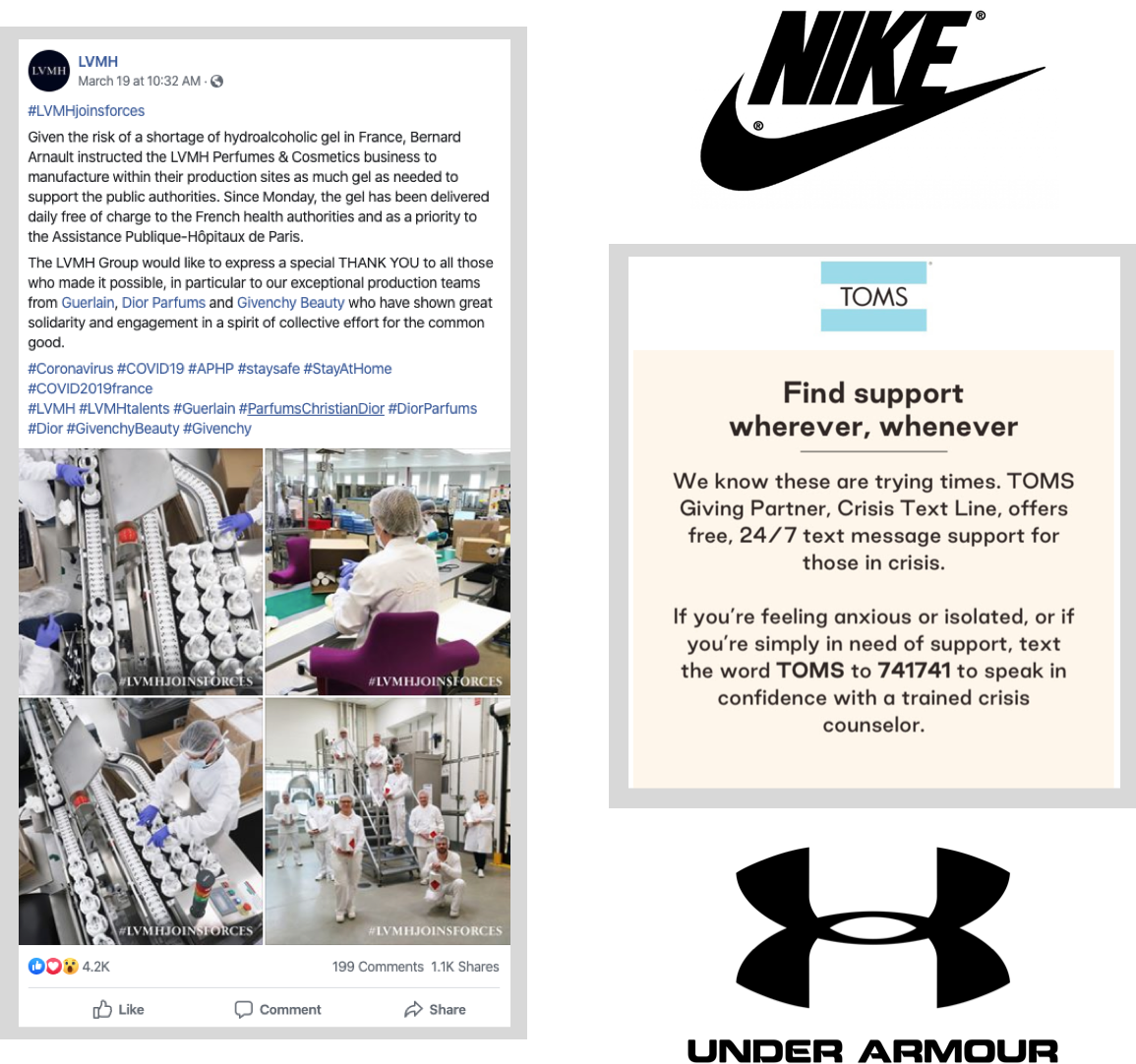 Supporting Frontline Workers with Product Donations
Another common approach brands have taken is to donate their own products to support frontline healthcare workers and emergency responders as well as the community at large.
For example, Allbirds is donating shoes to healthcare workers and first responders while The Body Shop is donating care packages and cleansing products to healthcare facilities, shelters and senior communities. And Pronovias Group, which sells designer wedding gowns, has also taken action by donating dresses to engaged healthcare workers.

Investing to Keep Small Businesses and their Employees Afloat
Finally, retailers have also taken steps to support both small businesses and their employees who are directly affected by the economic downturn and consumers' inability to partake in typical commerce activities like eating at restaurants.
For instance, Made In is donating a portion of sales to support food and beverage industry workers, while Etsy invested $5 million dollars to help the small businesses that sell through its marketplace stay afloat.