Inspiration
Lane Bryant Introduces Intelligent Onsite Personalization to Increase Revenue & Efficiency
Lane Bryant is a woman founded and led brand that aims to knock down barriers for all women. In 1904, founder Lena Bryant invented plus-size fashion. Over a century later, the Lane Bryant brand continues to push the boundaries and pioneer fashion for women of all shapes.
Today, this forward-thinking approach extends to every aspect of Lane Bryant's business and has led the marketing team to search for opportunities to create more personalized and coordinated digital experiences.
Searching for Intelligent Onsite Personalization
The team responsible for Lane Bryant's ecommerce site identified several challenges they hoped to improve upon through better use of technology and more personalization. To resolve these challenges, the team began searching for a solution that could help:
The search for an onsite personalization engine to improve Lane Bryant's ability to engage shoppers and create fluid cross-channel experiences led the team straight to Bluecore. They had already found success bringing personalization to email with Bluecore Communicate™, so the natural progression was to bring this level of personalization to their ecommerce properties with Bluecore Site™.
"We've seen great success with Bluecore as an audience creation and activation platform for email and paid media campaigns, so extending that to our ecommerce site felt like a natural progression. It just makes sense to have one platform driving all those interactions," explains Eric Gohs, VP Performance Marketing, Credit & Loyalty at Ascena Retail Group.
Delivering Unique and Engaging Onsite Experiences
With the right technology in place, Lane Bryant's marketing team has made significant strides toward their goals of keeping shoppers onsite longer, better communicating with those shoppers, driving faster purchase cycles and delivering consistent personalization. In particular, this involved:
Increasing Onsite Engagement, Identification and Conversions with Personalized Offers
Lane Bryant achieved as much as a 73% lift in conversions against a holdout group on their ecommerce site by using intelligent modals that surfaced key messages and offers for a select group of visitors according to onsite behavior and predicted affinities.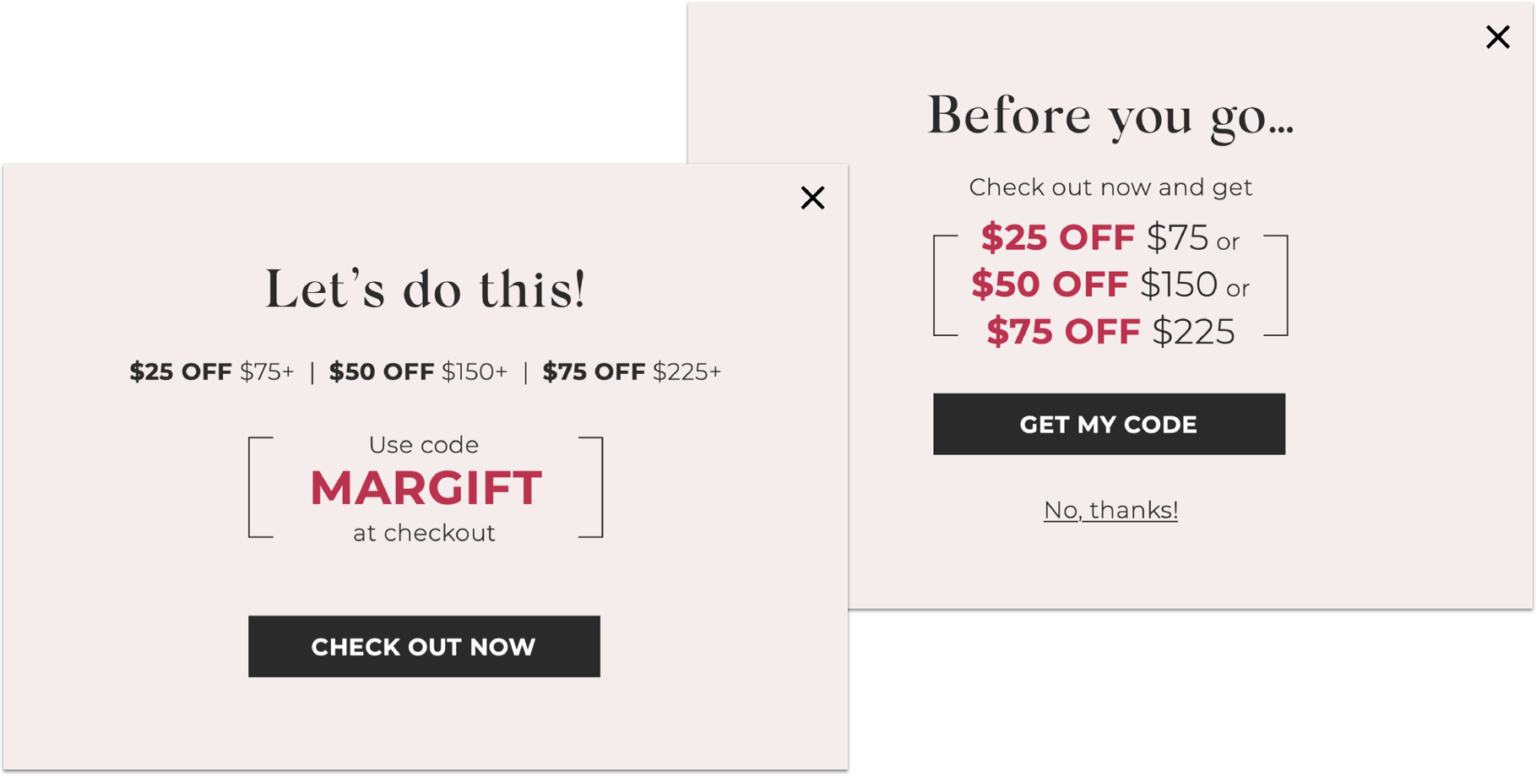 Introducing Advanced, Dynamic Personalization Onsite Based on Unique Customer Journeys
Next, the Lane Bryant team optimized each shopper's onsite experience to keep her engaged longer and increase the rate and velocity of conversions by creating a variety of personalized modals and automatically serving each shopper the one she is most likely to engage with based on her unique profile.
"We know that not everyone's path onsite will be linear, since every shopper behaves differently. With Bluecore, we can establish multiple recipes to account for all kinds of paths to engagement. Ultimately, customers will qualify for multiple recipes at different points in time, and then Bluecore can help us use her behavior, like product or discount affinity, to determine which one we prioritize," Gohs shares.
Creating Highly Coordinated, Customer-First Experiences Across Channels
Finally, the team has delivered fluid experiences for shoppers across channels and increased the efficiency of doing so by using a single platform to collect, combine and activate data for personalized campaigns across channels, including email and onsite.
"If we gather data in a totally different way for the website than we do for email or anywhere else, then we're likely to create engagement opportunities that are contradictory as customers move across channels. Bluecore helps us avoid that contradiction and create a more fluid experience by using the data we already have consistently," says Michele Etgen, VP Ecommerce & Technology Strategy at Lane Bryant.
Growing Revenue & Efficiency with Intelligent Multichannel Personalization
Introducing Bluecore for email and ecommerce site personalization has given Lane Bryant the solution they need to create more personalized and coordinated digital experiences. Best of all, this seamless approach to multichannel marketing has helped Lane Bryant significantly increase onsite engagement and revenue.
Interested in learning more about Lane Bryant's success? Click here to get the full story.