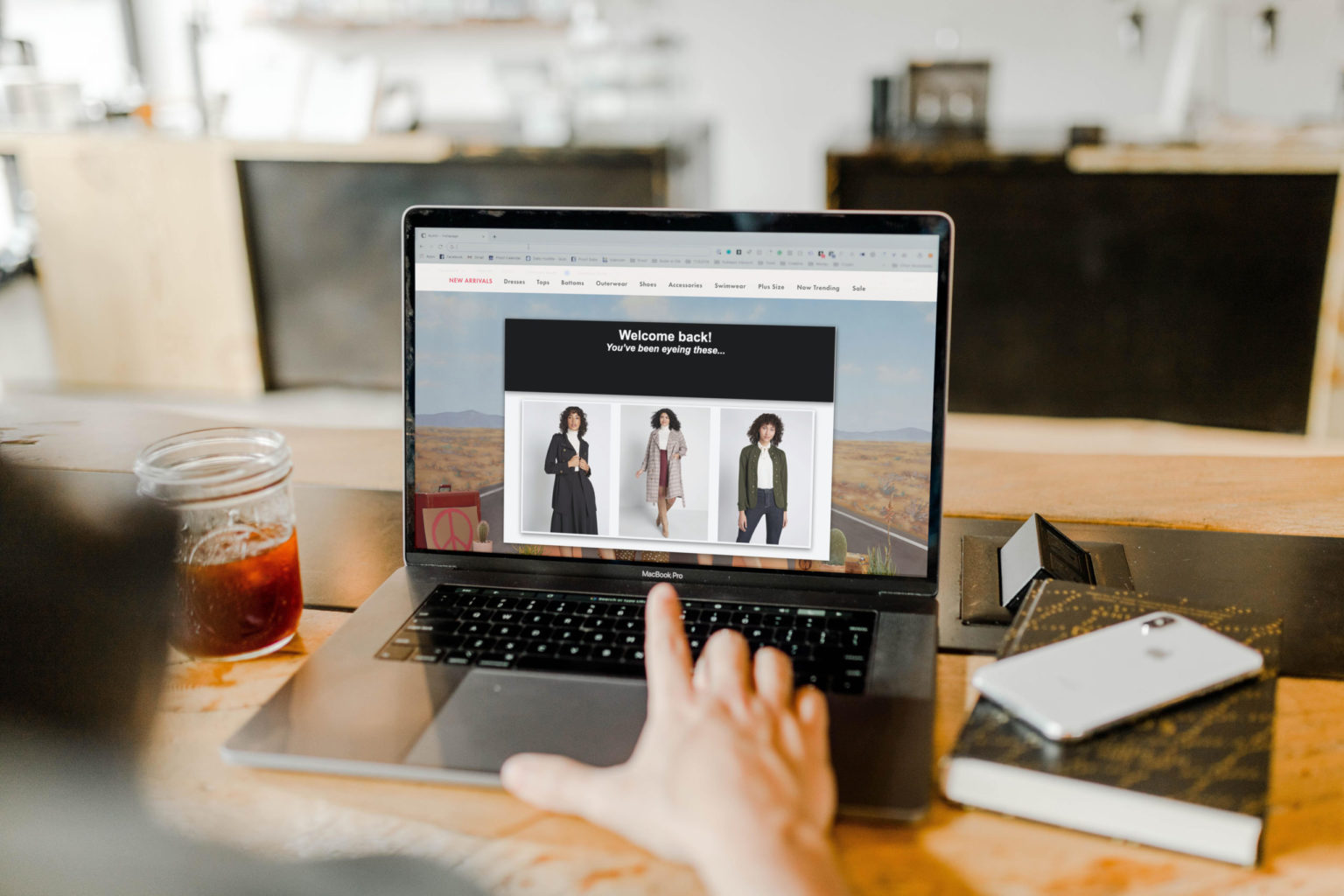 Strategy
Grow Customer Loyalty by Nurturing Shoppers Onsite
Customer loyalty and retention is more important now than ever for retailers. The combination of highly connected, hyperadoptive consumers who are willing to try new brands, rising customer acquisition costs and an overall increase in online purchase activity have created an environment in which retailers must prioritize relationship-building to increase customer loyalty and grow customer lifetime value. 
To do this effectively, your marketing team can't leave any stone unturned. And one of the best places to start is your ecommerce site.
Using Your Ecommerce Site to Build Relationships & Grow Customer Loyalty
Your ecommerce site is more than just a place to shop. It should be a strategic asset for your marketing team where you nurture shoppers and build relationships. In fact, the best retail sites combine the ease and efficiency of ecommerce with the personalization and helpfulness of the in-store boutique experience.
Specifically, the right type of onsite personalization can recreate the experience of a boutique where shoppers walk in and the store associate knows who they are, what they've looked at previously and what they generally like. This type of relationship breeds customer loyalty and, when done correctly, can increase both purchase cadence and purchase size.
Of course turning your ecommerce site into this type of relationship-builder requires a strategic approach to accessing and using retail data.
Increasing Customer Loyalty with Data-Backed Onsite Personalization
Achieving the level of onsite personalization required to turn your ecommerce site into a relationship-builder comes down in large part to data. First, you must have the right combination of data accessible and second, you must enable your team to use that data effectively. Here's what that looks like.
1) Tying together and accessing the right data
Regardless of the channel — site, email or anything else — your marketing team needs the right type of retail data model to power personalization at scale. This retail data model should combine three types of data — customer, behavior and product data — while remaining compliant with data privacy regulations like GDPR and CCPA. These three types of data represent the "who" (customer), "when" (behavior) and "what" (product) needed to create experiences that are truly personal to each shopper based on both content and timing.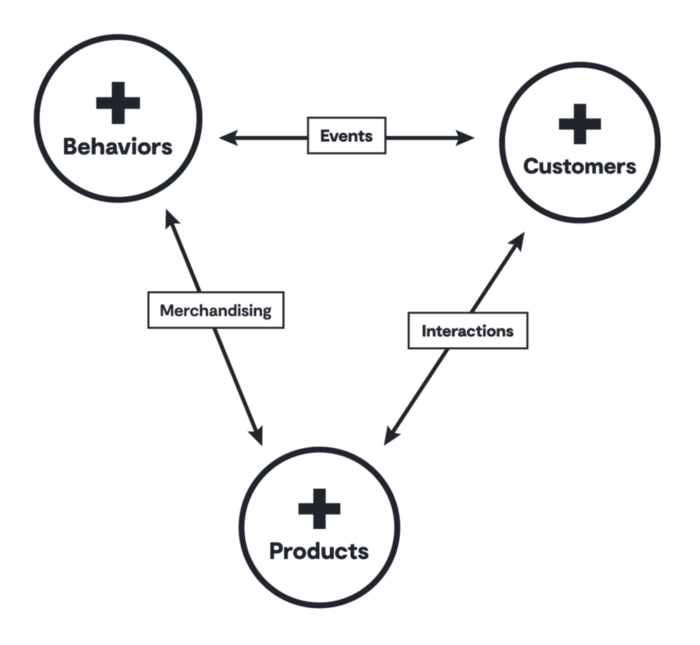 Beyond tying together these types of data, you also need to make the data accessible and actionable for your marketing team. That's because even the best data is worthless if your team can't understand and take action based on it.
Ultimately, giving your team access to this type of retail-specific, three-piece data model can unlock a mountain of opportunities to create a personalized experience for shoppers by making it easy to understand which products or messages to show which customers at specific points in time. From there, it's a matter of using that information correctly to create a fully personalized onsite experience that nurtures shoppers to grow loyalty.
2) Effectively using the available data
Having the right data and making it accessible for your marketing team is one thing; using the data effectively to create personalized experiences onsite that achieve the goal of growing customer loyalty is another.
Effectively using the available data to achieve these goals might involve:
Differentiating identified visitors from anonymous visitors and triggering messaging that's tailored to each group, including targeting your known audience based on their various affinities (discount affinity, category affinity, brand affinity etc.)

Providing targeted offers only for your high discount affinity visitors,

thus preserving your margins and moving away from purely promotional messaging

Greeting returning shoppers with messaging based on their known affinities or loyalty status to continue to nurture them based on their interests

Allowing visitors to subscribe for merchandising updates around products they're interested in that may be out of stock or are about to be released

Customizing pop-ups and banners for returning visitors by featuring relevant onsite product recommendations based on previous behavior and predicted product affinities (e.g. "Welcome back! Here's where you left off last time" vs. "Welcome to our site! We think you might be interested in these items")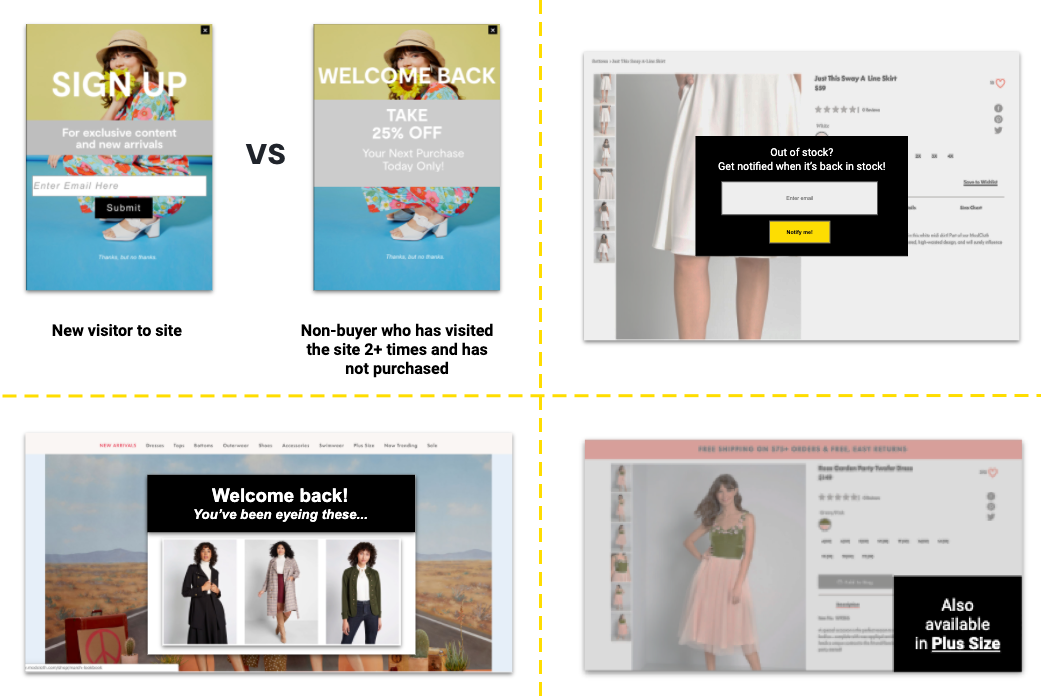 Including these types of highly relevant messages and product recommendations throughout shoppers' onsite experience encourages product discovery and reduces abandonment rates, both of which can lead to more same-session conversions and higher order values. Overall, this approach helps nurture customers to grow their relationship with your brand and increase loyalty.
It also creates a strong foundation for building loyalty with new customers by improving your ability to identify anonymous site visitors and then nurture them with highly personalized, 1:1 messages both onsite and through email marketing campaigns, as well as exporting these insights for use in multiple other channels.
Ready to Build Relationships and Grow Customer Loyalty Onsite?
When done effectively, onsite personalization can combine the efficiency of ecommerce with the helpfulness of a personal shopper. This combination creates an incredibly valuable experience that's sure to keep customers coming back time and time again.
Visit bluecore.com/site to learn more about how you can get started improving onsite personalization in a way that effectively builds relationships to grow customer loyalty.