Dear Direct to Consumer Brands,
You know you who are… the Warby Parkers, Caspers, Pura Vidas, Tommy Johns and Glossiers of the world.
Thank you.
Thank you for taking the time to get to know me, the consumer. Thank you for delivering a great product and experience based on that knowledge. And thank you for making more traditional retailers take notice and adapt to your ways.
Clearly, you've made your mark on the retail sector. 
But you're only just getting started.
You've gotten this far based on simple, yet powerful products, better customer experiences and the ability to capture mindshare quickly. Now it's time to take this success to the next level and put to bed any rumors that you're just a passing fad. One way to do this is by doubling down on data in your marketing. 
As your brand continues to grow, it's going to be all too easy to fall into the same traps as your predecessors — many of which stem from outdated technology. But you have an advantage: You can learn from their mistakes. You have a new, modern brand built around the customer, and you need to keep it that way, particularly as the old guard watches your every move.
Here are some options.
Yours truly,
Deniz
1) Put Your Product Data on Par with Your Customer Data
D2C brands have built a reputation (and their businesses) around knowing their customers inside and out. As you continue to grow your brand and expand your product catalog, the next phase will be about making sure your product data is as deep and pristine as your customer data.
Connecting people to products they love has been the hallmark of D2C success to date. However the key to this type of personalization, particularly as product catalogs grow, lies in a retail-specific data model that unifies behavior, customer and product data.
D2C brands have the behavior and customer pieces of this data model down. The product data element hasn't been as important in the past because most D2C brands started with a very narrow focus. Consider Bonobos, which started with a single pair of pants, or Allbirds, which started with a single pair of shoes in one color. But now Bonobos sells shirts, swimwear, accessories and more and Allbirds has multiple styles of shoes in multiple colors. And the trajectory of these brands is not unique for the D2C space. 
As your products diversify, having (a) a living product catalog within your ESP and (b) the ability to tie product data to behavior and customer data will be essential to delivering the stellar customer experiences shoppers have come to expect from your brand.
Marrying a deep understanding of your customers with an equally deep understanding of your products will allow you to answer the questions of "when" (behavior data), "who" (customer data) and "what" (product data) to deliver true 1:1 personalized experiences at scale.
2) Get Insanely Personalized with Your Recommendations
If you want to get truly personal with your customers, you need to deliver 1:1 product recommendations in unique moments of need. As your customer base and product catalog grow, matching the "who-what-when" becomes inherently more difficult. But with the right data model — a retail-specific three piece data model as described above — it doesn't have to be difficult.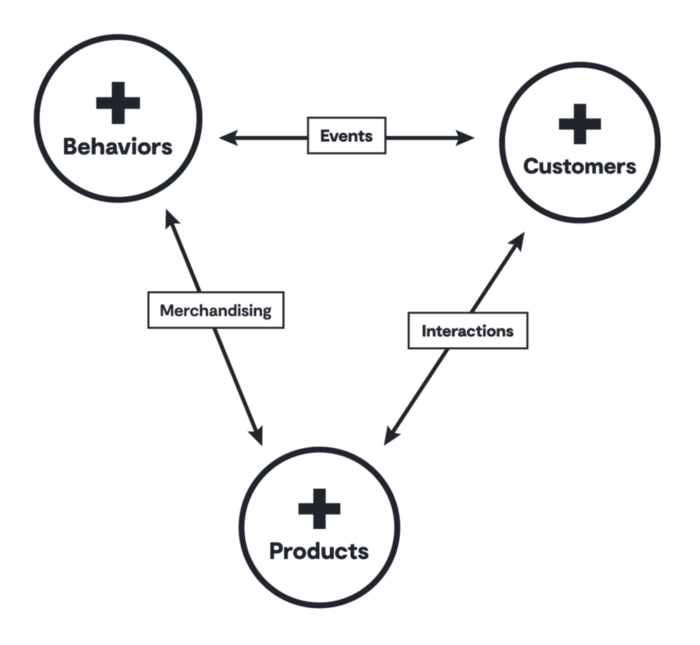 A solution that uses Artificial Intelligence and Machine Learning to build intelligent audiences that understand a shopper's interest and likelihood to buy will help you deliver insanely personalized experiences and specific product recommendations to individual customers. 
For example, consider the value of emailing an audience of customers who viewed shirts versus an audience of customers with a high affinity for shirts who also have a high likelihood to buy in the next week. The predictive nature of the latter: 
Improves relevance for your customers (they're interested in shirts and they're looking to buy now, meaning they'd be excited to hear from you)

Expands your reach

Enables you to proactively reach customers who haven't even started shopping for shirts with your brand — yet 
It's a win-win-win.
3) Unlock Data Your Marketing Team Can Execute Against Today — Not Tomorrow
The audience latency and time-consuming list cutting activities that plague more traditional marketing teams simply won't cut it in the D2C world.
The bar has been set extraordinarily high for D2C brands. To continue to impress customers and deepen their connection to your brand, you need to continue creating relevant, timely experiences. D2C brands already have an advantage in this regard thanks to deep customer data, but that data is only as powerful as your marketing team's ability to quickly and easily execute against it.
Whether you're empowering your in-house data science team to better support marketing or putting the keys in the hands of your marketing team, you need to unlock access to data. 
You need a system that democratizes access to data and combines that access with activation. This combination of access and activation will empower your marketing team to build more thoughtful, targeted campaigns and test new ideas faster and more often. 
It can also mean the difference between hitting customers in a moment of need and showing up too late. Shoppers don't understand the concept of having to wait 24-72 hours for a list from an IT department, and you shouldn't have to either. You need a system that enables you to access and activate data within minutes, not business days.
The bottom line? Having access to accurate, up-to-date data and being able to act on that information quickly will allow your team to run more relevant and, therefore, effective campaigns that improve marketing performance.
4) Take a Customer-Centric Approach, Not a Channel-Centric Approach
The D2C advantage of deep customer knowledge comes into play once again when we think about retail marketing organizations. Today's shoppers move fluidly from one channel to the next, and they expect the same of brands. However, this fluidity is challenging for legacy retailers that have built their teams and mindset around channels (as opposed to customers).
By maintaining a customer-driven mindset, you can think through the right way to engage customers based on your overarching business goals — not based on your email team's goals versus your paid media team's goals. 
This customer-centric approach can boost overall performance by:
Keeping experiences consistent for customers across channels

Ensuring efforts on one channel don't cannibalize efforts on another by keeping everyone aligned on a single focus
For example, instead of having an email team and a paid media team that operate in their own silos, you can orient these teams around shared goals. One of these goals might be customer acquisition. In a channel-focused world, your paid media team and your email marketing team might end up inadvertently working against each other. In a customer-driven world, these teams would coordinate (1) efforts to drive site traffic through advertising on Facebook and Instagram with (2) activities to identify customers onsite through email capture and (3) ultimately convert those new subscribers through a targeted welcome series. 
The big difference is that in a channel-focused world, each team aims to maximize the value of their channel; but in a customer-driven world, teams work together to pursue the big picture goal of acquiring new customers.
5) Maximize Your Paid Media Investments with Predictive Audiences
Cross-channel advertising, particularly on Facebook and Instagram, can get very expensive very quickly. But it's necessary to reach new customers and boost acquisition efforts. This holds particularly true in the D2C space, where brand awareness remains key.
Warby Parker co-founder and co-CEO David Gilboa sums up the challenge perfectly: "The number one marketing channel for most direct to consumer brands is Facebook, and Facebook continues to charge higher and higher rents for access to their audiences." 
Inc. echoes this sentiment, reporting: "Facebook and Google are simply the new middlemen. Instead of paying rent to a landlord or letting a third-party retailer markup the price of your product, many D2C companies have to pay the internet giants to be their storefront."
This reality has put pressure on D2C brands to find new ways to maximize their investments in marketing on Facebook.
The best way to maximize your investments in paid media, particularly on Facebook, is to use predictive models to build audiences, particularly those that evaluate customer lifetime value, and use those as seed lists to build lookalike custom audiences to generate the greatest possible return. 
Using a predicted customer lifetime value model to power audiences for paid media allows you to reserve spend for only high value customers, which should maximize your return on ad spend. Many brands will try to take shortcuts through non-intelligent audiences that only take into account specific behaviors, like past purchases and spend, but there's no guarantee that past spend = future spend. A predicted customer lifetime value model looks beyond past spend to include factors like frequency of site visits, browsing behavior during site visits and stage in buyer cycle to understand which customers will be most valuable for your brand going forward. 
Once you build an audience of customers with a high predicted lifetime value, you can then get even more specific by layering in information like category affinity (so you can target customers with relevant products) and likelihood to purchase (so you can target customers in a moment of need). You can use this approach to audience building for cross-channel advertising to build lookalike models that aid customer acquisition (and don't forget to follow that up with intelligent email capture!) or to retarget shoppers who have been on your site. 
Double Down on Marketing Success
D2C brands are well positioned to continue making waves in the retail space. From a marketing perspective, the foundation of customer data is an important start. Going forward, the critical element to success will be weaving intelligent product data alongside that customer data to deliver truly epic personalized experiences. 
Check out our eBook on email personalization in retail to learn more about what it takes to deliver a personalized experience in the league of D2C pacesetters.