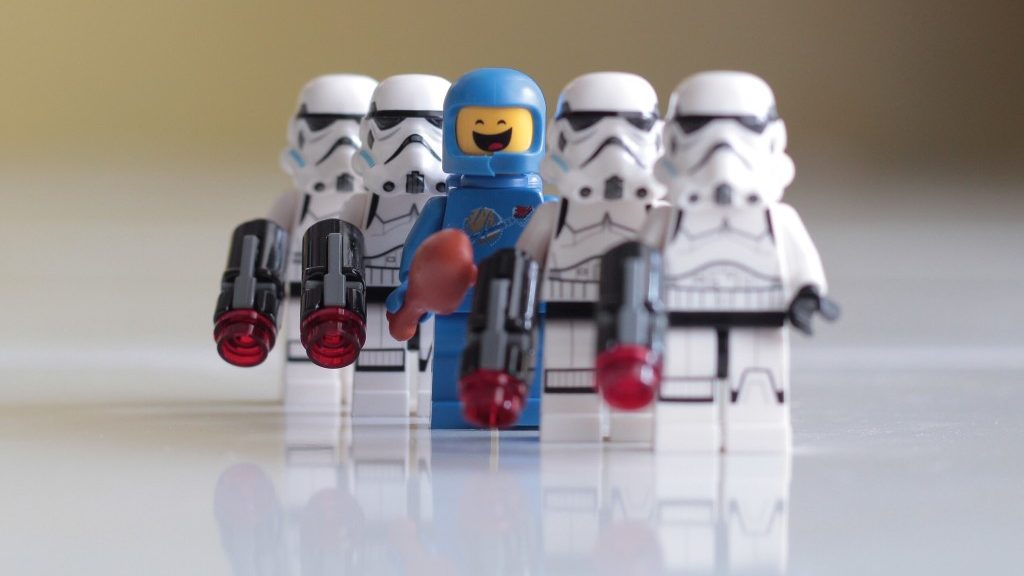 Strategy
8 Tactics for a Personalized Customer Experience
In case you hadn't noticed, the relationship between consumers and retailers has changed. In the past, retailers had the upper hand. They chose how much information to share, what price to set for products and where they wanted to sell. Retailers did this because they could. Customers were loyal to brands regardless of these factors.
But over the past ten years or so, technology has completely changed the balance. Consumers today are in charge and more empowered than ever before. They demand information they feel entitled to know. They pay the price they want. They expect a product to be delivered to their doorstep. And they want an experience that is personalized just for them.
Download: Email Personalization Problem
What is a Personalized Customer Experience?
A personalized customer experience meets your customers' needs and shows value by delivering tailored messaging, offers and products to individuals. In the context of the customer experience, personalization means providing outreach that meets a consumer's needs and requirements. 
Decades ago, personalization may have just meant addressing your customers by name – but today, personalization must touch the customer's entire experience across channels. Retailers now vie for a customer's attention by sending them personalized content, offers, product recommendations and more.
When retailers use personalization to engage customers on an ongoing basis, they deliver a personalized experience. However, don't forget that personalization is an ever-evolving process – to create the most effective strategy possible, let's dive into why personalization is crucial to the customer experience and some new tips to enhance your personalization strategy.
Why is a Personalized Customer Experience Important?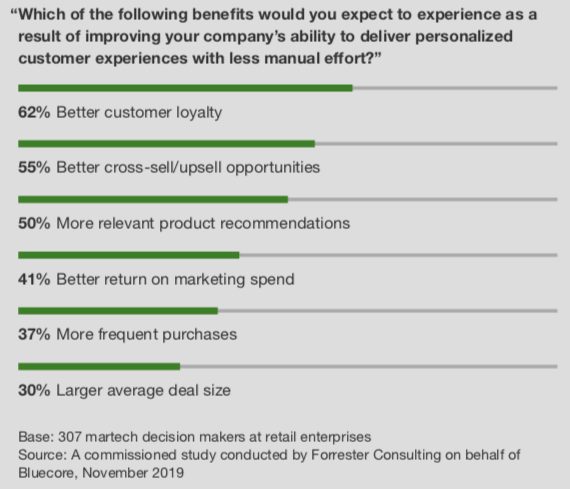 Personalization can bring several benefits to retailers. In a survey of retail martech decision makers, 62% expected benefits like increased loyalty due to personalization, 55% anticipated more ways to upsell and 50% saw an opportunity to deliver more relevant product recommendations. All of these benefits make personalization seem like a good idea to retailers – but what do consumers think?
According to McKinsey, 80% of customers want retailers to personalize their experience. A figure like this is quite telling – especially when you consider a recent study by Forrester, which found 68% of shoppers reported,
"I am unlikely to return to a website that doesn't provide a satisfactory customer experience." 
Shocking insights like these have prompted modern retailers to compete to provide the best customer experience possible. But every time a customer is exposed to an improved shopping experience, their expectations are reset to a new, higher level. This leaves today's retailers in the position of always chasing the customer.
The good news for retailers is that there's a way to get ahead of this rat race and drive loyalty with shoppers; by providing a personalized customer experience. 
This means engaging customers as a segment of one, in real-time by listening, capturing, measuring, assessing and addressing intent across every touchpoint. 
This might sound like an incredibly daunting (and exhausting) task, but with the right personalization technology, it doesn't have to be.
Identifying Common Challenges Of Personalization
If personalization were simple, everyone would do it. Unfortunately, we know that's not the case. Creating a personalized customer experience comes with challenges. Let's take a look at a few. 
Data
Having the right retail data is key. Being able to use that data to create personalized recommendations is even more important. For many companies, collecting and analyzing data is a huge challenge that can't be overcome without the right technology in place.
Organizational Efficiency
How do you get all of the departments in your company on the same page? Creating a fluid and consistent customer experience is challenging if your team lacks an aligned operational flow and communication process.
Scalability
Scaling your business

takes patience and persistence, it requires ample planning and dedication. Starting small, improving data collection, accessibility, and aligning with leadership will help you accomplish your goals.
With these challenges in mind, here are a few ways to approach providing a personalized customer experience.
1. Understand Audience Segmentation is Not Personalization
In the past, providing properly segmented target markets was falsely construed as personalization. For example, if a customer bought a "#1 Dad" mug from your store, you could segment them into an audience of people interested in drinkware. This basic segmentation eventually gave way to hypersegmentation, where after buying that mug, the customer would be segmented into multiple specific audiences – such as "parent" and "interested in hot drinks."
While hypersegmentation is a step up from more customer-ambivalent targeting strategies, segmentation is not personalization. Segmentation puts groups of consumers into smaller categories, with future outreach focused around a perceived adherence to that audience. 
On the other hand, personalization requires you to look at customers as individuals, not as a combination of specific traits. This allows you to provide customers with focused outreach that considers their unique past behaviors and predicted interests. 
Organizations are also beginning to implement micro-segmentation. This tactic, much like hyper-segmentation, concentrates on the minute details. It takes segmentation a step further by understanding the specificity of what your customers' interests are. In doing so, your company will relate to customers and maximize the value of each customer.
2. Focus on Relevance
One of the key reasons for investing in personalization is to deliver a more relevant experience on a consistent basis. Relevant content has a lot of benefits – it can encourage customers to make a purchase quicker or expand their order size, for instance. On the other hand, irrelevant content can cause consumers to become frustrated with your brand, and may even cause them to hit the unsubscribe button.
Retailers know that data and insights need to be their north star in order to create relevant content, but they might not know how to interpret that data in practice. 
Here are three examples of ways you can use personalization to send dynamic, relevant outreach:
Determine personalized product recommendations

based on factors like an individual's co-purchase patterns, next best purchase recommendations, or predicted affinities

Personalize offers

after finding a customer's discount preference, lifecycle stage, and purchase history

Optimize send times

for when an individual is most likely to engage
When you send timely, personalized messages in a way that speaks to a customer's direct needs, you'll be able to better satisfy your customers and maximize their lifetime value.
3. Identify Gaps in Your Ability to Deliver a Personalized Experience
Before embarking on the journey of providing personalized experiences, it's important to understand that personalization is not a revolution, but rather an evolution. It is not a rip and replace solution. Your personalization strategy must be ever-evolving.
The best way to deliver a seamless personalized experience is to put yourself in the customers' shoes. Think about parts of their journey where your brand isn't furthering its understanding of them as the customer. For instance, you may not ask for an email address at checkout, or you're not collecting enough product, customer or behavior data.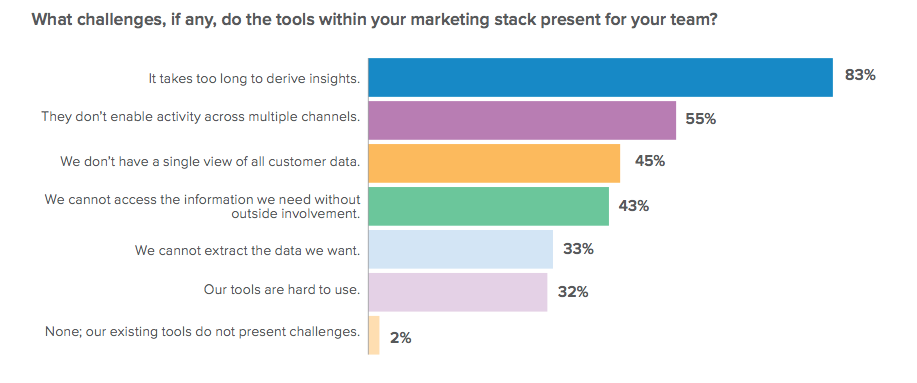 Identifying these types of gaps in your personalization strategy will help you spot the biggest opportunities for improvement.
4. Design Each Digital Touchpoint to Enable Personalization
Once you've identified your gaps, the next step is to make sure every digital touchpoint both collects and activates customer data. Your technology stack should be designed with the intent of continuously learning more and more about your customers and their preferences. 
With that in mind, when you're evaluating technology tools, you should ask two questions. 
"Are we going to be able to capture personal information about that individual customer?" 
"Can this data be activated and used in a timely manner?" 
If you can't answer yes to both questions, that solution won't be able to get you closer to a personalized experience – let alone one you can regularly optimize.
5. Get an Omnichannel View of the Customer Journey
Omnichannel personalization takes into consideration the customers' activities across all channels. Unfortunately, all marketers can be guilty of putting on blinders and saying, "I'm only in charge of email" or "I'm only in charge of social" or "I'm only in charge of in-store experience." 
In order to provide a cohesive customer experience, marketing organizations can't operate in silos. Rather, they need to put their heads together to work on a single, cohesive strategy.
Your entire marketing team needs to think about how you can collaborate to create amazing experiences across channels. Implementing an approach on only one channel may seem better than nothing, but it can create a disjointed experience if the messages customers receive via email are radically different from the messages they receive on social media. 
A single, unified personalization solution will help you break down these silos and create more effective omnichannel campaigns. The key to delivering this type of experience is introducing a unified retail data model that allows you to bring together critical retail data on customers, behaviors and products and then activate that information seamlessly across channels from a single platform.
6. Fill Your Retail Data Model with High-Quality Data
Retailers need a data model that unifies customer, behavior, and product data to create personalized experiences. Each type of data plays a special role in determining what motivates a specific customer to purchase a certain product:
Who

: Customer data helps retailers determine who is taking action

When

: Behavior data helps retailers understand when those customers take action

What

: Product data helps retailers identify what they are looking for and includes all of the details of your product catalog that customers love
Product data in particular is essential, as it is the only way to provide relevant, truly personalized recommendations for each shopper. However, obtaining and analyzing product data isn't intuitive — it often involves a deep dive into your entire product catalog to find relevant metadata. 
That said, a retail-specific personalization solution that inherently uses a unified retail data model to create scalable, self-learning campaigns can ease this challenge and help deliver true 1:1 personalization.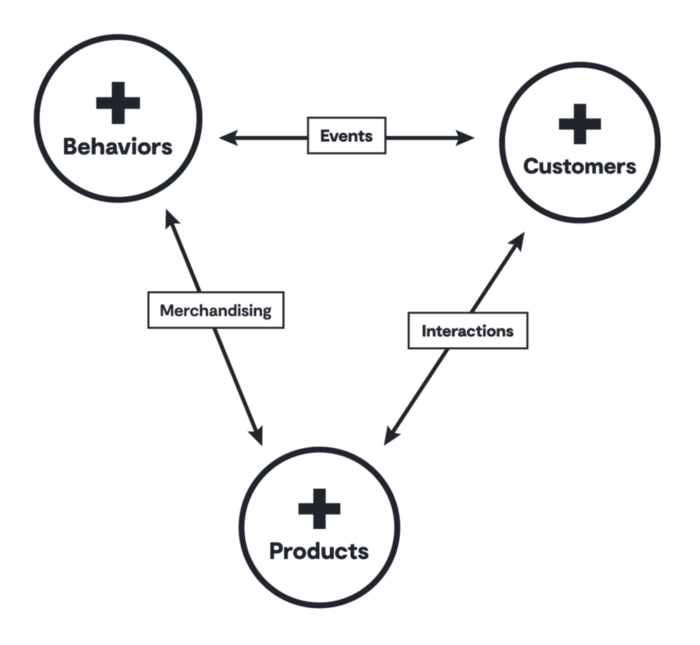 Key to this success is also the ability to continuously collect customer, behavior and product data in real-time so that the data used to power personalized campaigns accurately reflects changes in customer interests and product availability. In the end, this data-driven approach will help drive better performance with less effort from your marketing team.
7. Use AI to Streamline Personalized Marketing Activities
A personalized customer experience has a lot of moving parts. You need to have processes that can collect, sort and store an ever-growing amount of personal data 24 hours a day, 7 days a week. Then, you need to be able to quickly analyze that data to understand a customer's immediate needs and send a customized promotional message at the moment they're most likely to engage.
Establishing and upholding these processes may seem like an insurmountable task for a single marketing team. Thankfully, modern technology has the answers. An AI-driven retail marketing platform can help you:
Collect and analyze customer data on an ongoing basis

Unify customer, behavior and product data in real time

Automatically deliver relevant, personalized outreach to customers across channels
8. Balance Personalization and Privacy
Organizations are trying their hardest to create personalized experiences for their customers while also addressing privacy concerns and new regulations (think GDPA or Third-Party Cookies). 
Understanding privacy principles and requirements from a legal perspective should be a priority. Additionally, make sure the marketing platforms you work with also understand and adhere to these regulations.
At the end of the day, data is essential to personalization and when it comes to sharing information, customers are more willing to share if they know their data will remain secure.
Examples of Personalized Customer Experiences in Retail
According to Forrester, only 12 percent of retailers claim they are "very effective" at delivering personalized experiences to their customers. Because of this, it can be quite difficult to make heads or tails of exactly what a successful personalized campaign should look like. Let's take a look at two retailers that have a solid retail personalization strategy.
Starbucks: Enabling Personalization Through Touchpoints
The Starbucks app provides a great example of how to enable personalization through covert touchpoints. For customers, the mobile app is an easy way to pay and earn points for free drinks. For the Starbucks marketing team, it is a data collection machine. 
Through the app, Starbucks learns which cafes or stores customers visit, when they buy products, and what products they buy. They know what customers buy when they travel, what customers buy when they're home and what discounts they need to be incentivized to buy more. Knowing all of this allows the Starbucks marketing team to deliver personalized communications to each customer.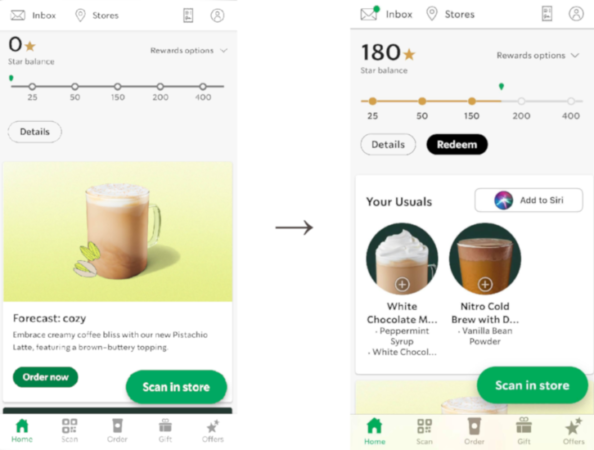 For instance, the image above shows a new account on the left. After a few orders, the app learned that the visitor usually purchases the same two drinks each week on Saturday mornings. With this information, Starbucks makes it easy for their customers to find their favorite drinks, and occasionally even sends push notifications reminding them to grab their weekly coffee. 
This helps Starbucks operate more efficiently as an organization and engage customers only in ways that make the most sense for them.
Hammacher Schlemmer: Developing Cross-Channel Personalization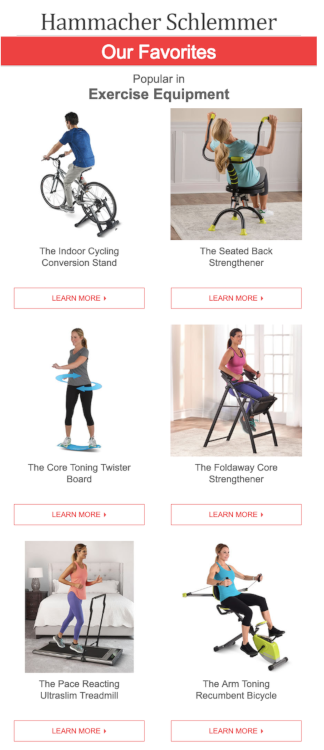 Hammacher Schlemmer is America's longest-running catalog, providing customers with a wide range of unique and interesting products since 1848. As a forward-looking company, they decided to not only establish an online presence but also optimize their customer's online experience through personalization.
However, there was one problem: With multiple unconnected marketing channels and an inch-thick product catalog, manually promoting their products in a personalized manner was impossible. They got to work by adopting a retail email marketing solution that could automatically analyze their entire catalog and store product data alongside customer and behavior data. From there, they had the ability to deliver personalized product-related content to customers.
Then, they started building a multi-touch cross-channel journey that initially targeted customers using email. If a customer doesn't engage over email, Hammacher Schlemmer's marketing solution will automatically pivot to personalized social media ads that leverage the same data sets used for email outreach. This helped Hammacher Schlemmer meet customers across platforms with relevant outreach.
How to Provide a More Personal Experience with Bluecore
Technology has changed the way that consumers perceive and interact with brands. Today's consumers don't want to have informal relationships with brands that exclusively revolve around purchasing – they want an exemplary experience that proves retailers understand their needs and preferences.
By combining the right expertise with advanced personalization capabilities, your retail marketing team can deliver the type of experience consumers crave — a unique purchasing experience that provides value for them while also solidifying their loyalty to your brand long-term.
Ready for more? Download our eBook on The Email Personalization Problem.