AI-powered retail personalization software.
No two shoppers are the same, but many retailers target large groups of customers with identical messaging. The solution lies in a personalization engine designed for retailers.
Request a Demo
What is personalization software?
Personalization software allows marketers to target content, offers, and recommendations to a specific individual. Personalization solutions need to be fed high-quality customer behavior and product data — the exact kinds of data retailers collect, process, and generate every day. The best solutions barely require retail marketers to lift a finger. They can simply set up the tool, build audiences and content, and then deploy campaigns at a click.
How Bluecore simplifies personalization for retailers.
Unify shopper, behavior, and product data in real time.
Retailers need to know who customers are, what they are doing, and which products are most relevant to them. Our personalization software automatically collects and analyzes customer, behavior, and product data — which no other solution can do.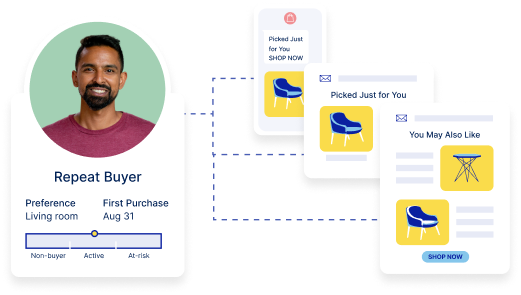 An intuitive platform designed for marketers.
Many generic platforms are designed to sell a few products to certain groups of people. Retailers need a platform meant to sell hundreds, even thousands, of products to many individual customers who are looking to buy those specific items.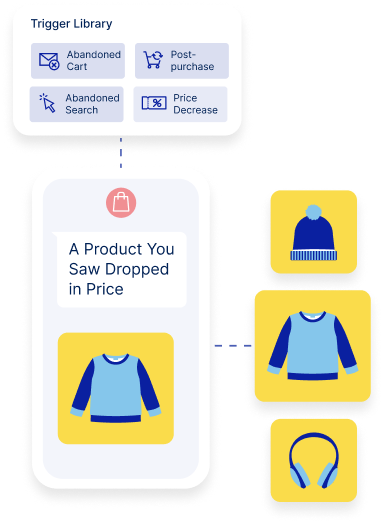 Deliver consistent multichannel messaging.
Retailers need to go wherever their shoppers are. Whether they're checking their email, browsing social media, or visiting your site, customers receive a seamless experience across channels.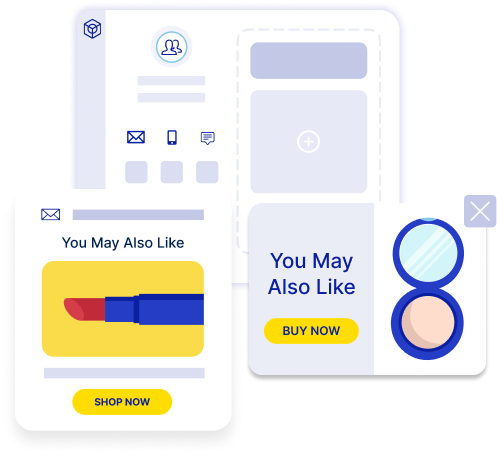 Use the power of predictive intelligence for better outreach.
A retailer's ability to predict the future by learning from the past is only as good as its predictive intelligence — or the AI models that fuel the automated personalization engine.
Retailers can collect, analyze, and use their data to personalize product recommendations, adapt onsite experiences to shopper behavior, and predict customers' next action in increasingly accurate and impactful ways.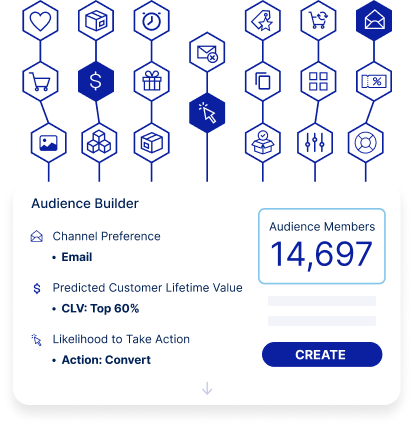 Create event-based triggers to drive your strategy.
Event-based triggers enable retailers react to shopper actions and changes in product catalog immediately. Our personalization engine supports behavioral and merchandising triggers, helping you create and capitalize on consumer demand.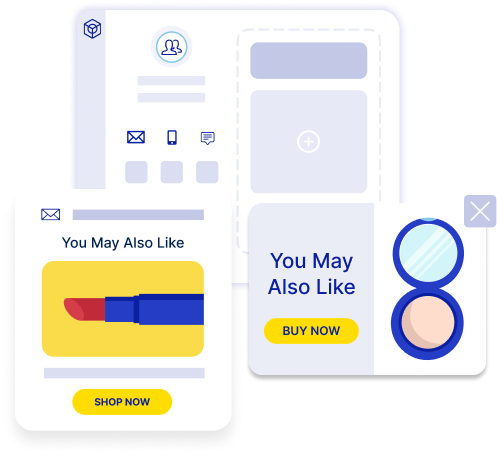 Why is retail personalization so challenging?
Sixty-nine% of retailers lack the technology required to deliver relevant personalization. This isn't the fault of retail marketing teams. Most marketing technology simply isn't designed to meet their needs.
Consequently, many retail teams are faced with problems that are difficult to resolve. If any of these difficulties sound familiar, it's time to rethink your approach to retail personalization.
Collecting and analyzing data: Retailers create troves of data as a byproduct of day-to-day operations. However, most are not able to automatically collect that data and turn it into instantaneous insights. Retailers need a solution that can automate and act on those insights in real time.
Creating a unified view of customer data: Much of a retailer's data exists in silos, and getting teams to share data manually is time consuming. Retailers need a personalization solution that unifies data from across the organization.
Enabling multichannel personalization: Retail technology often only focuses on one channel, causing each channel to operate at odds with the other. Retailers need a tool that personalizes outreach across channels and integrates with their other solutions.
Working with unintuitive platforms: Marketers shouldn't need expertise in data science to make the most of their technology. Your solution should be easy for your team to adopt, implement, understand, and optimize.
Key features of Bluecore's retail personalization engine.
No-code personalization: Personalizing outreach shouldn't be difficult. Bluecore empowers marketing teams to introduce personalized elements with a few clicks.
Visual content builder for retailer: See exactly what your target consumer will see before you hit send, simplifying campaign creation.
Personalization performance reporting: Compare your static campaigns against one-to-one campaigns, proving their value to stakeholders.
Send time optimization – Automatically send outreach when a particular customer is most likely to engage, right down to the minute.
Smart Campaigns™: Use predictive intelligence to automate your segmentation process and determine the best content, offers and product recommendations for each of your email subscribers.
Automated A/B testing: Try new ideas easily using A/B testing with holdout groups as an automatic, opt-in process.
Easy integration: Seamlessly syndicate your campaigns across social media platforms, or integrate Bluecore with other solutions.
Retail personalization software FAQs.