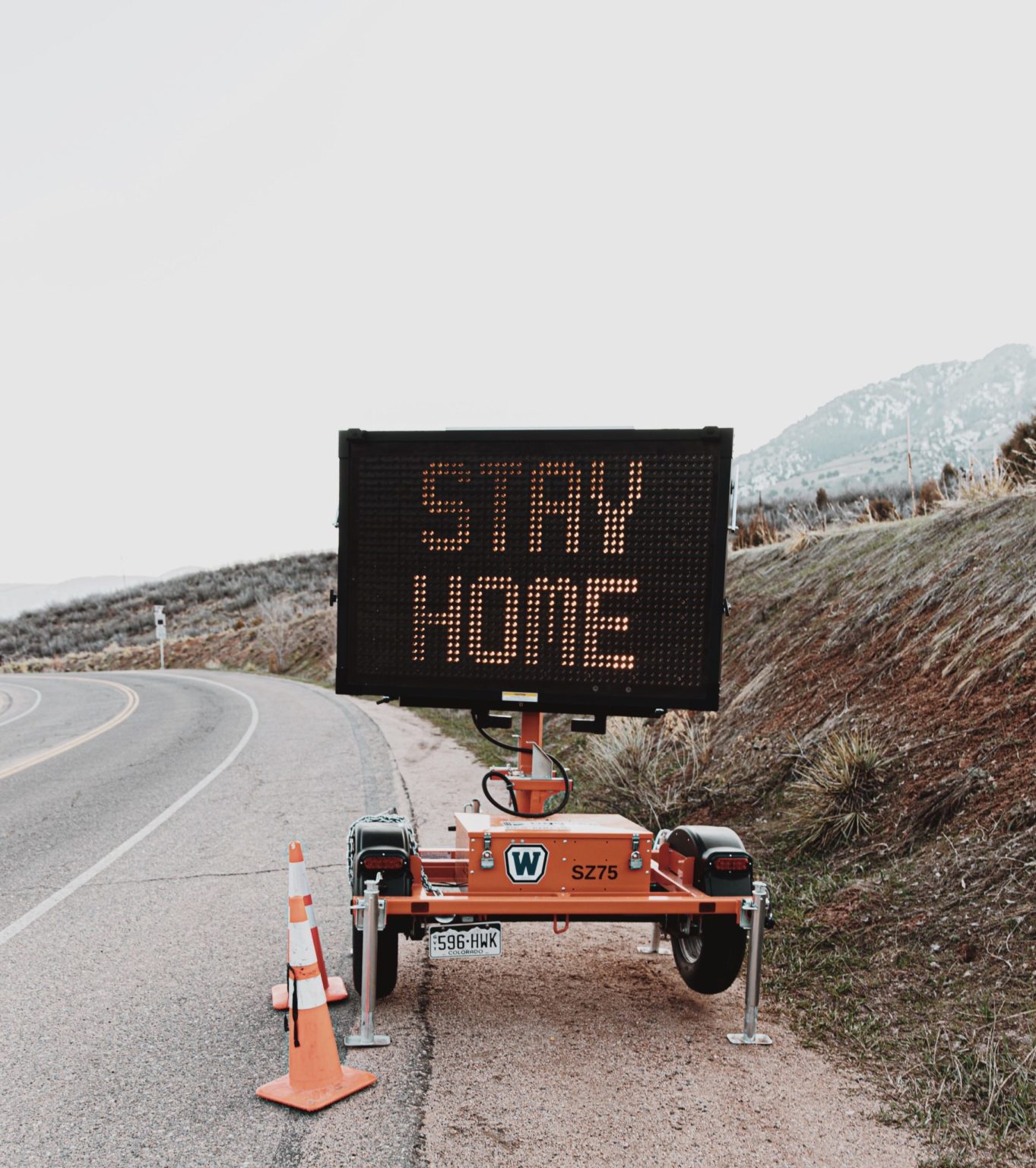 Trends
The Impact of COVID-19 on Ecommerce Shopping Behavior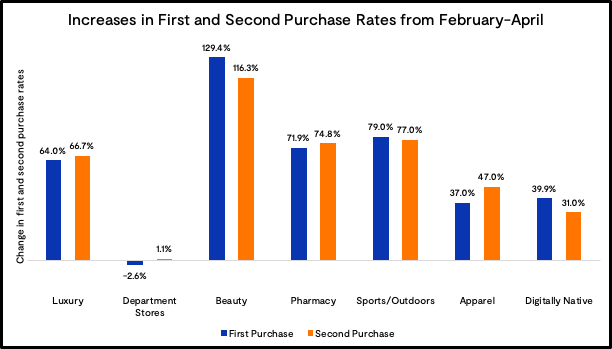 The majority of retailers saw big increases in both first and second purchase rates from February to April. The increase in first purchases represents a departure from normal shopping trends, as retailers typically see low first purchase rates during January, February and March following high first purchase rates around the holiday season.
However, this spike in first purchases is not surprising as consumers stocked up on items they might need while staying home and changed habits (and potentially loyalties) by buying online rather than in store. The fact that many retailers began to offer unprecedented sales for this time of year was also a likely contributor to this trend.
Top takeaway
Be careful of relying too heavily on deal marketing. It may boost customer acquisition in the short term, but it's an expensive tactic that typically leads to high customer acquisition costs and low repeat purchase rates. Instead, focus on creating value for shoppers based on your products and fostering a sense of community to improve engagement.
Email Captures Increase, Indicating New Online Shoppers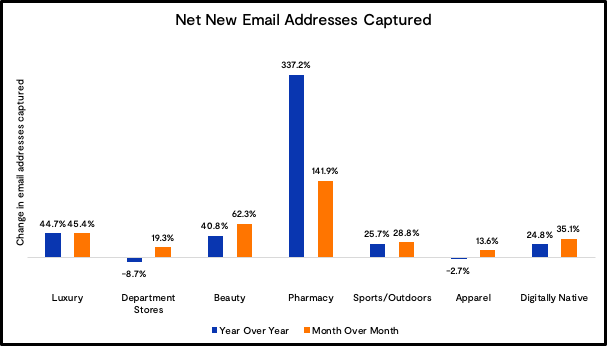 With the exception of department stores and apparel retailers, email captures have increased across the board both year over year and month over month. These increases are not surprising given the fact that the current climate has forced a near 100% shift to ecommerce and that the same retailers have seen increases in first purchase rates over the past month.
Diving deeper, the fact that most retailers saw a bigger increase in email captures over the past month compared to year over year indicates that the shift to ecommerce took hold mainly after lockdowns went into effect. Pharmacy breaks this trend, likely because consumers started stocking up on pharmacy products earlier on.
Finally, the fact that beauty and apparel retailers experienced such a big jump in first purchase rates but a smaller jump in email addresses captured suggests that these retailers effectively converted consumers who had previously only window shopped. In contrast, pharmacy retailers saw an opposite trend, indicating much of the traffic they're seeing online is entirely new.
Top takeaway
Take advantage of the increased ecommerce traffic by implementing intelligent email capture onsite. This approach can give you more opportunities to surface relevant content for shoppers, ultimately turning your site into a conversion vehicle by helping grow your subscriber base and identifying anonymous visitors.
Email Click Rates Vary, Highlighting Early Hesitation in Engagement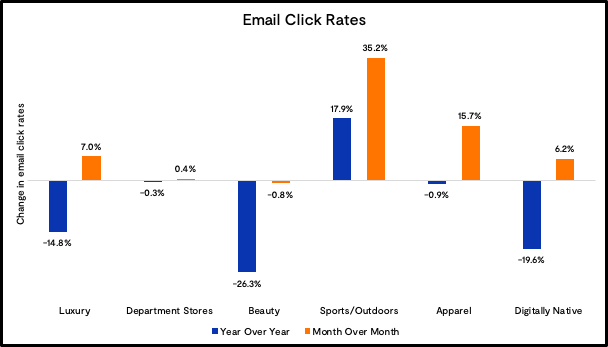 Email click rates are mostly down year over year, but increased for most retailers between February and April. This variation suggests that most consumers held off on engaging earlier on in the crisis but began engaging more as they settled into the new normal and needs arose. 
Another explanation for this shift is that many brands sent out messages updating shoppers about policies and store closures at the beginning of the crisis, and these messages were intended as purely informational and didn't actually encourage engagement.
The one exception to this pattern is the sports/outdoors retail vertical, which likely saw more steady engagement as consumers prepared to shift activities, like gym workouts, to home.
Top takeaway
Don't panic if click rates were or continue to be down. They are beginning to trend upward again and, even so, taking a long term view for any kind of measurement is important, especially when it comes to events like this that can cause major swings in behavior.
Email Conversion Rates Increase, Suggesting High Purchase Intent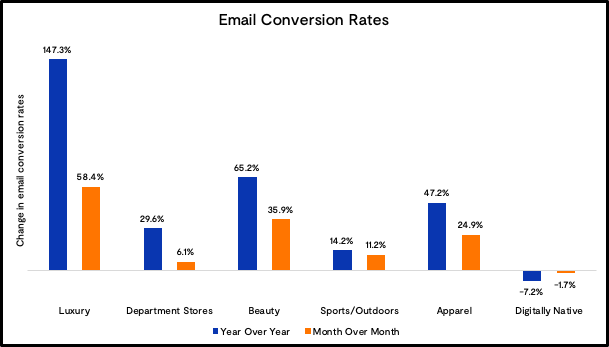 Email conversion rates are up mostly across the board, even where click rates are down. This discrepancy reveals that those who did engage earlier on in February and March had high purchase intent.
Digitally native brands buck this trend, with email conversion rates down year over year and month over month. This trend is interesting, given that digitally native brands are usually built around ecommerce first. The already large ecommerce presence of these brands means they likely wouldn't see as big swings in engagement as other types of retailers who are now transitioning a major brick and mortar business to online. 
However, the decrease in engagement reveals that consumers are relying more heavily on traditional retailers during this time. It is also indicative of the fact that digital native brands tend to weight their marketing more heavily toward acquisition, and may not have the appropriate strategies in place to drive retention at this time. Finally, it's important to note that many digital native brands sell more nuanced products, which shoppers are less inclined to buy right now.
Top takeaway
Stay targeted to keep conversion rates high. The best way to keep conversion rates high, or reverse a downward trend in the case of digitally native brands, is to stay as targeted as possible in email communications. Specifically, make sure ultra-relevant, bottom-of-the-funnel messaging streams like behavioral and merchandising triggered emails are running and put measures into place to personalize at scale earlier on in the purchase cycle too (e.g. by using predictive audiences and introducing personalized batch emails).
Products Viewed Online Increase, Underscoring Uptick in Ecommerce Activity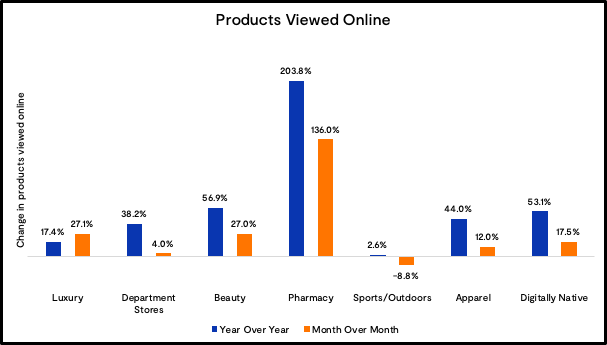 The number of products viewed online has also increased month over month and year over year. Not surprisingly, pharmacy retailers have seen a particularly large spike in the number of products viewed online as consumers continue to shop for cleaning and wellness products.
Sports/outdoors retailers are one exception here, with products viewed online decreasing slightly from February to April. However, the steadier increases in email engagement these retailers saw suggest that shoppers did more research for these products earlier on.
Top takeaway
Make sure your product abandonment emails are running so that you can re-engage any shoppers who view products but don't purchase them. Running these types of triggered emails is always valuable, but it becomes even more so as product views increase. You can also use this data to power intelligent merchandising triggers, for example by notifying shoppers who viewed but did not buy products as inventory on those products changes (e.g. starts running low or comes back in stock).
Shoppers Adding Products to Cart and Purchasing Online Increase, Revealing High Purchase Intent — and Curiosity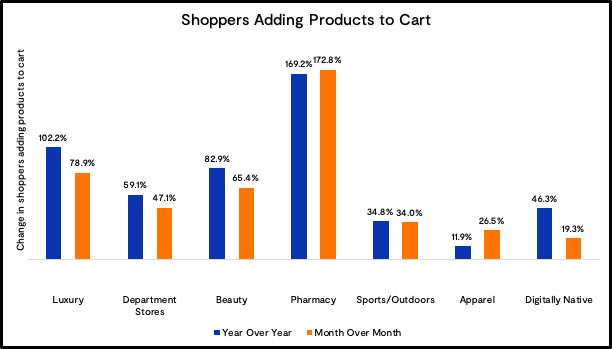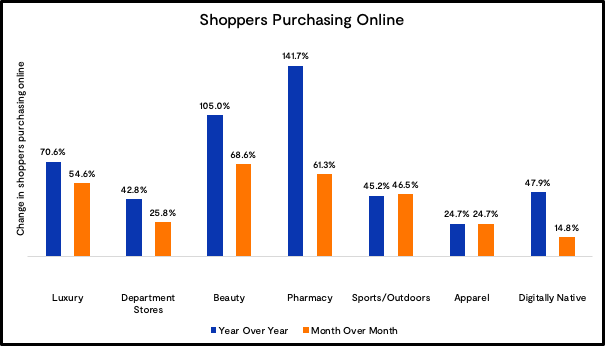 Retailers of all kinds have seen significant increases in shoppers adding products to their cart and purchasing online when comparing both month over month and year over year. However, most retailers have seen a bigger increase in shoppers adding products to their cart than they've seen in shoppers making purchases online. This discrepancy indicates that although shoppers have high purchase intent, many are first adding products to their cart to get a better understanding of shipping costs and delivery timelines. 
Pharmacy retailers, in particular, see this trend play out, likely due to shipping delays on some of the most in-demand items like cleaning products, hand sanitizer and toilet paper. On the other hand, beauty retailers see the reverse of this trend, likely due to consumers who are more interested in self-care products like moisturizer and who are more willing to experiment with new products while staying home.
Top takeaway
First, it's important to clearly communicate to shoppers any changes in shipping policies (e.g. waived shipping fees) and timelines so that they know what to expect. You should do so both on your site and in emails to make your policies abundantly clear. Second, make sure you have cart abandonment triggered emails running — including multiple touches — so that you can more effectively re-engage shoppers who add items to their cart but don't purchase. After all, these powerhouse emails boast the highest open and conversion rates and revenue per email for a reason.
How Can You Shift Your Marketing Strategies in Response to COVID-19?
As the data on consumer shopping behavior makes clear, we are not in "business as usual" mode — even on the ecommerce side of things. With that in mind, what does your team need to know to adjust your marketing strategy in response to COVID-19?
Click here for Bluecore's advice on how to shift your approach and account for both immediate wins and long term adjustments.