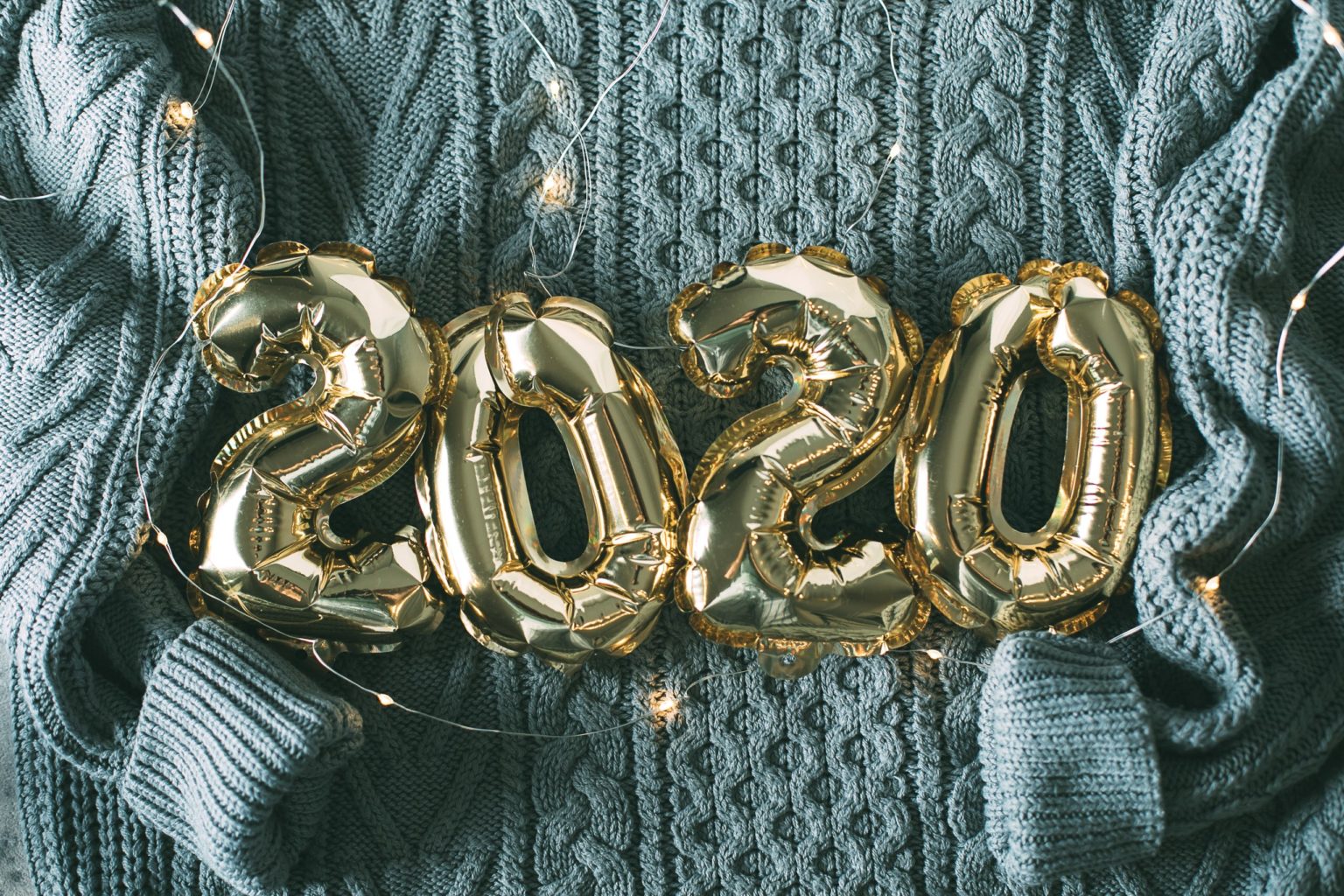 Trends
2020 Retail Trends: Industry Leaders Share Their Predictions
2020 has arrived, and with it comes a mountain of opportunity for retail. We witnessed a shift in operating models, with brands of all kinds embracing more digitally fluid, direct-to-consumer strategies and digitally native brands introducing more traditional efforts to their business.
At the same time, we saw a lot of advancements in technology in 2019 — most notably the maturation of AI in a way that makes it accessible to marketers — and now we can expect the impact of those changes to unfold over the next 12 months. 
To better understand the opportunity facing retailers in 2020, we turned to industry leaders. Specifically, we surveyed executives at top brands and retail agencies, including Lane Bryant, TomboyX, Jockey, Barneys, Missouri Star Quilt Co, Excelligence, Google Cloud, Merkle, True Fit and Blue Moon Digital. Here's what we learned about what they're expecting in the coming year.
The Most Valuable Impact of AI for Retail Marketing Teams in 2020 Will be Scaling 1:1 Personalization
Half of the leaders we surveyed agreed that the biggest impact of AI will be improving marketers' ability to deliver 1:1 personalization at scale.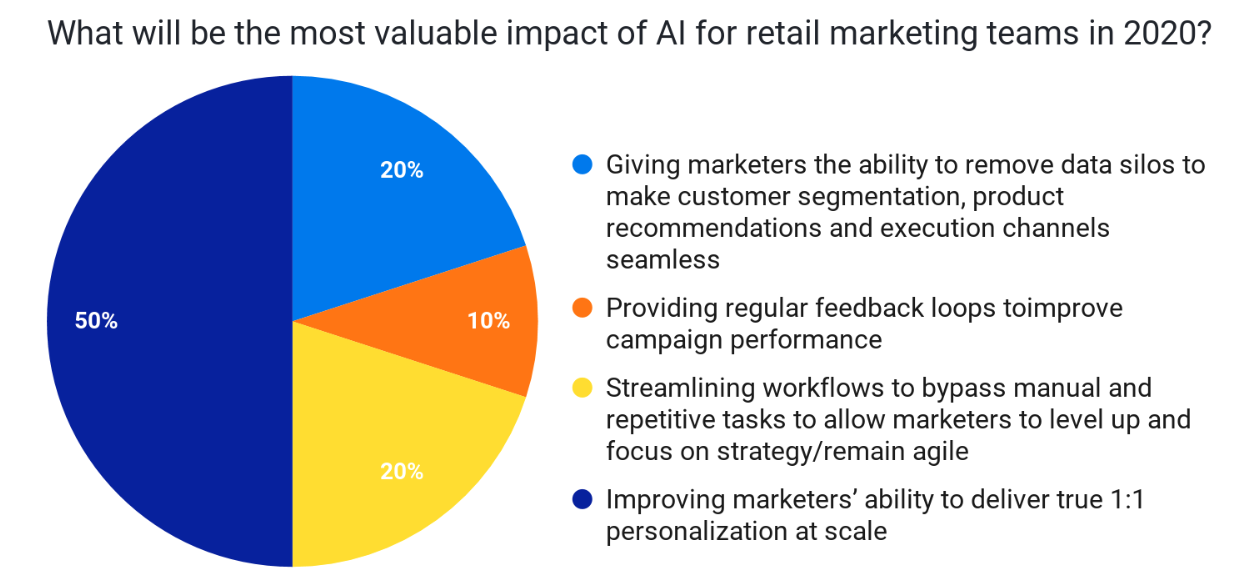 Carrie Tharp, VP of Retail at Google Cloud, agrees with this impact, sharing: "Much of what we're thinking about as we look at our 2020 retail roadmap revolves around how we can create personalization at scale in real time during the customer journey. 
One specific area of focus is product discovery. There's a lot of AI behind Google Search that understands the intent of what people are searching for, and at scale, globally what people mean by different phrases. Even when a shopper doesn't know how to describe what they're looking for, Google Search has a pretty high likelihood of getting them where they want to go. Advancements in product discovery, tied to email personalization and conversational commerce capabilities, will make the shopping experience less clunky and more like a great interaction with a store associate."
According to Gartner, AI will have a strong impact on personalization via product recommendations, but there will be other focus areas too. "By 2025, the top 10 retailers globally will leverage AI to facilitate prescriptive product recommendations, transactions and forward deployment of inventory for immediate delivery to consumers." (Predicts 2020: Consumers Determine Retail Success Well Before the Sale, Gartner subscription required)
Data leaders have a different mindset. From their vantage point, the biggest opportunity for AI in retail is not in marketing at all; it's in merchandise procurement. One VP of Data shares: "In retail, we spend 1-2% of sales in retail marketing and maybe 8-12% of sales in dot-com marketing. But we spend 60% of sales in merchandise procurement, and we have to make those procurement decisions 3-6 months out. If AI could tell us which items to buy, or even which orders we've already placed that should be cancelled, and which should be increased if possible, the impact would be greater than anything we can do in marketing."
The Biggest Challenges Facing Retail Marketers in 2020 Center Around Gaining Buy-In and Accessing/Actioning on Data
Looking at the challenges retail marketing teams expect to face in the year ahead, the majority of respondents were split between gaining buy-in to hand over decision-making to technology and effectively accessing and action on the data required to execute personalization strategies.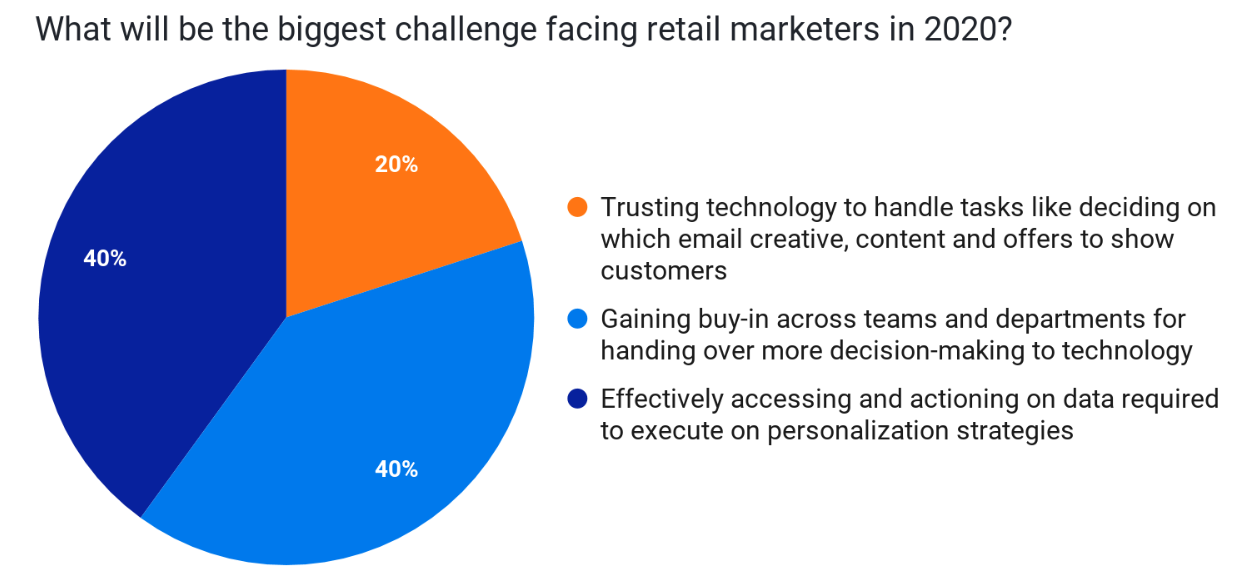 Despite the fact that these efforts will pose challenges, leaders see enormous opportunities in achieving these goals — especially when it comes to democratizing access to data.
Eric Gohs, VP Marketing Strategy at Lane Bryant, explains: "The ability for CRM experts to play around with 'what if' scenarios in building audiences creates more ownership over their work and pivots their work from marketing operations (getting the email, direct mail, SMS message out) to a strategic advantage for our organization (deciding who should/can get what message and when)."
Cindy Brown, CEO at Blue Moon Digital, echoes this sentiment. "Democratizing data is huge. Data has historically been in separate silos without a single source of truth. This not only makes day-to-day decisions harder, but in some cases, it leads to inaccurate conclusions. Once data is accessible to all business users in an online format, the game changes. More accurate insights are formed and the time to action is significantly reduced, resulting in a more comprehensive view of the business. This access also creates the opportunity to make predictions (which reduces uncertainty) and to make better strategic choices in our marketing mixes. Finally, it enables us to automate actions and understand patterns through analytics, leading to better decisioning models for campaigns that drive the most value possible for our brands. 
On top of that, increasing how quickly we can access insights means faster decision-making. The world of digital continues to move at increasing speeds. Being able to get insights on how to improve product performance or campaign performance quickly is crucial when you only have a consumer's attention for a couple of seconds. Faster insights empower us to automate actions so that we can create more efficient campaign processes."
There is No Single Top Priority for Retail Marketing Teams in 2020, but Scaling Email Personalization Proves Key
Our survey yielded a fairly even split across the board when it came to the top priority for retail marketing teams in 2020.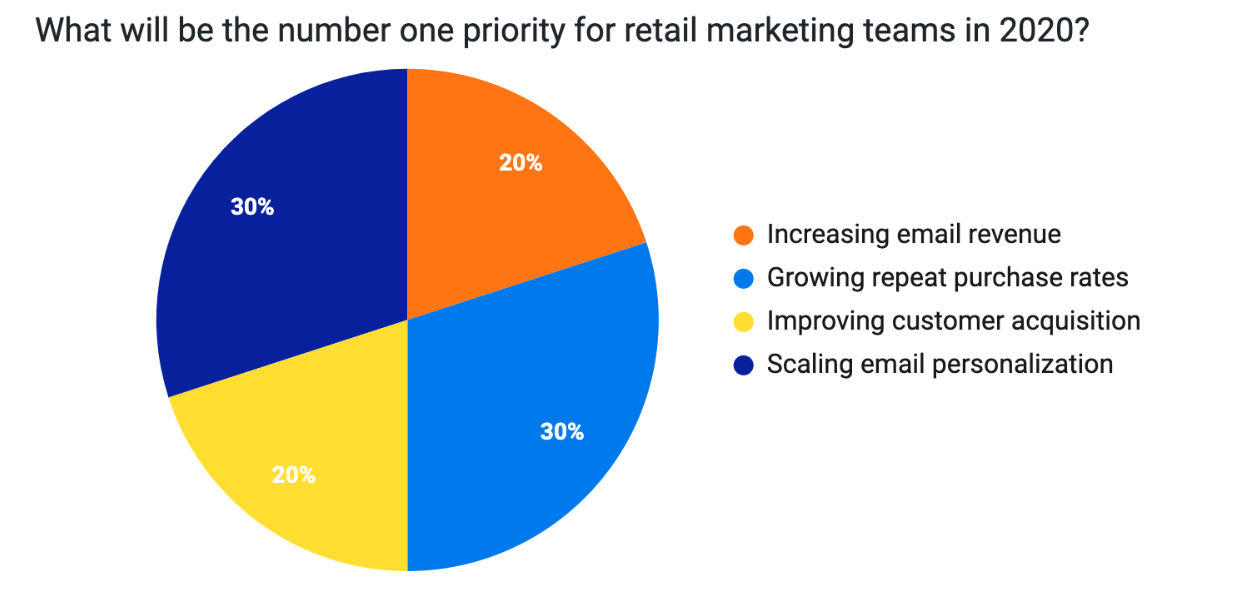 Looking at the top priorities, industry leaders gave strong reasons to focus first on scaling email personalization, since that can then be used as a means to achieving other goals like increasing email revenue, growing repeat purchase rates and improving customer acquisition.
Cindy Brown, CEO at Blue Moon Digital, sees personalization as a consistent theme among marketers and one that's important to tackle. "Consumers have so many more product options and so many more places and ways to shop than ever before. We needed to find a way for our clients' brands to stand out in this overly saturated consumer experience. Our answer to this challenge is personalization, getting closer to the ideal of 1:1 communications to break through that competitive landscape and differentiate the brand. 
We see personalization as a way to authentically connect with consumers, which is becoming increasingly feasible at scale with technologies that can solve for customer identity and serve a unique message."
The Biggest Roadblock to Achieving Personalization Goals in 2020 Will be Taking Action on Data
Industry leaders see numerous potential roadblocks to achieving personalization goals in the coming year, with 40% ranking the ability to take action on data in email and other channels as the biggest challenge their teams will face.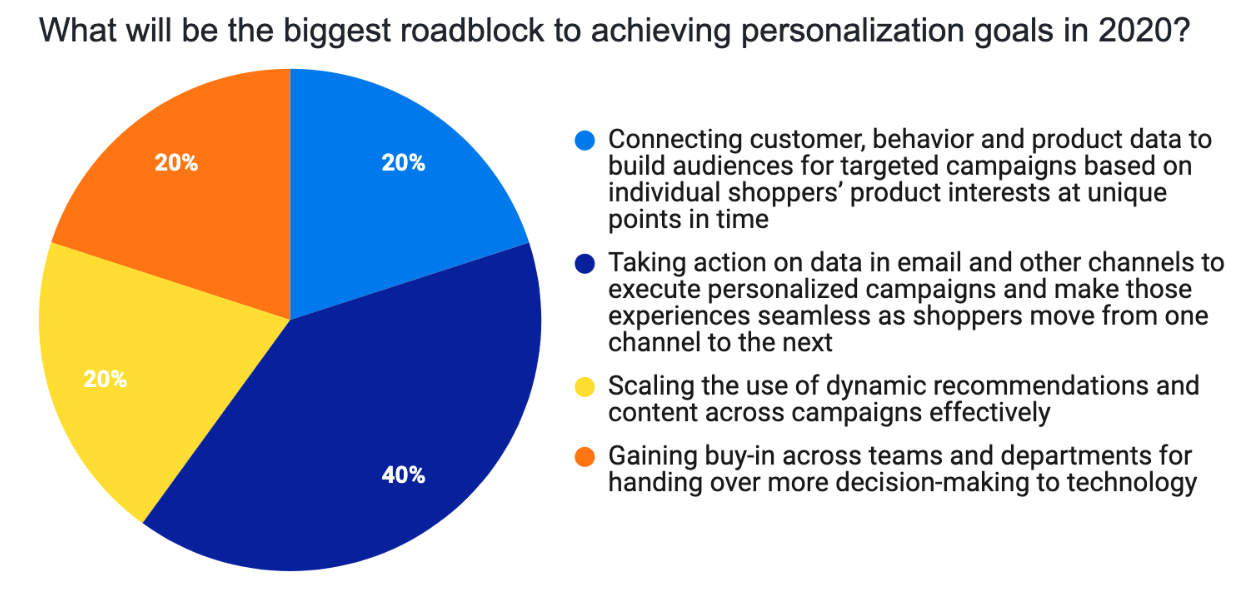 Overcoming this and two of the other top roadblocks (connecting customer, behavior and product data and scaling the use of dynamic recommendations) depends wholly on having the right technology in place.
Anupam Martins, President at Really Good Stuff, is well aware of the importance of having the right technology. He shares: "We are looking to leverage technology partners who have an understanding of the end to end customer journey to help us address technology issues and help make our communications to customers most relevant to them at their point of need."
Eric Gohs, VP Marketing Strategy at Lane Bryant, reports that his team tackled the technology challenge in 2019 and is looking forward to reaping the benefits in 2020. He says: "Ingestion of our store purchase data and CRM demographic and modeled behavioral flags into the Bluecore platform was a huge effort that we tackled in 2019. As we head into 2020, the exciting challenge becomes how to fully leverage that data to create more meaningful interactions with our customers beyond email and some paid media by utilizing that same intelligence for direct mail, mobile messaging and beyond."
Are You Ready for 2020?
What else do you need to know to prepare your brand for success in 2020? Check out our Bluecore Summit Annual magazine for advice on achieving personalization goals, improving access to data and more.