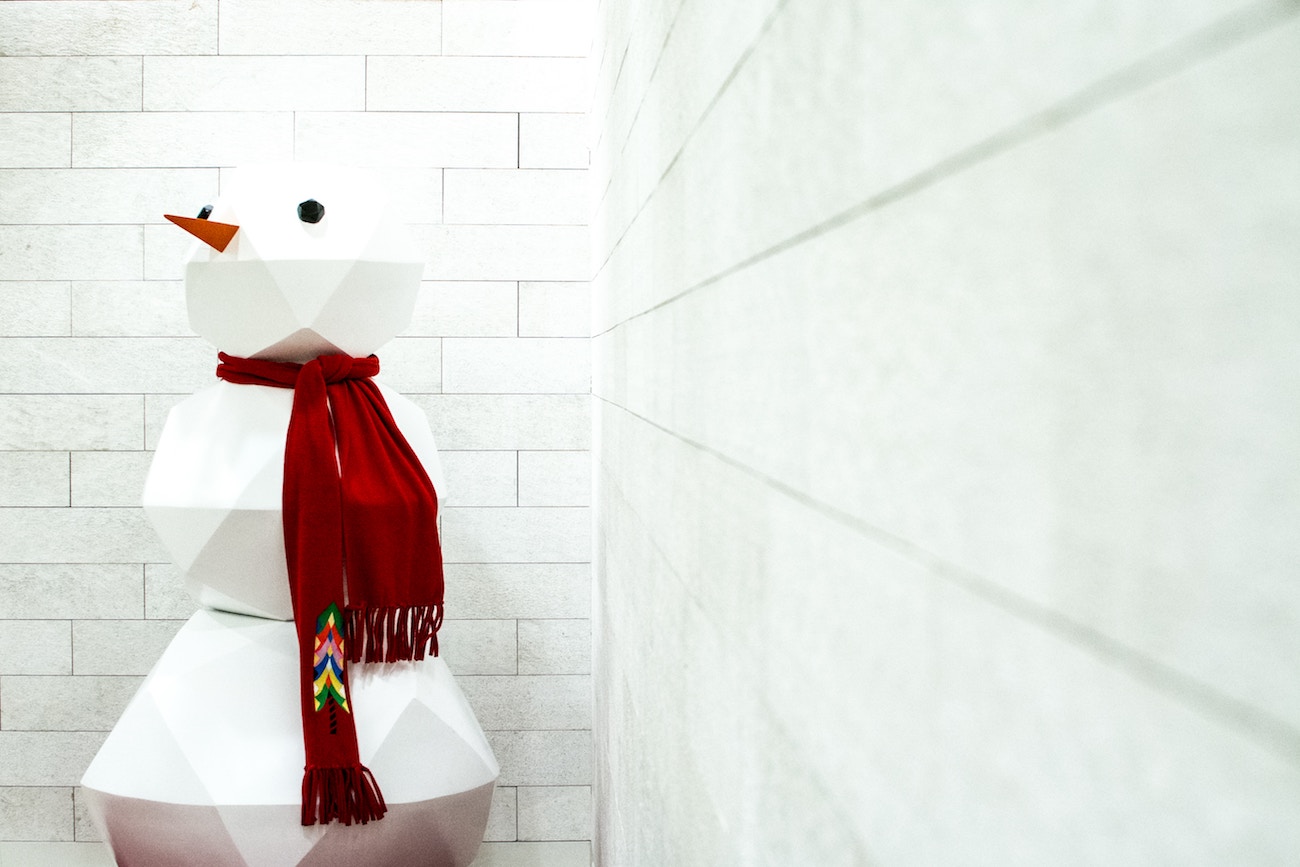 How-to
Holiday Email Marketing Guide: 8 Ideas and Examples
The holiday season is the most important time of year for retailers, with the National Retail Federation reporting that 19% of all sales take place during this time. To capitalize on this opportunity, many retailers spend months increasing their marketing spend and optimizing campaigns across various channels. This ramps up competition significantly and staying relevant means finding new and innovative ways to engage.
If you're planning to make any updates to your email marketing strategy for the holidays, now is the time to start. In this guide, we'll outline why retailers need to focus on their email campaigns this holiday season, provide ideas to optimize your campaigns, and round it all off with a few examples. 
Why Focus on Email Marketing During the Holidays?
Today's marketers have an abundance of channels to choose from – and for some, email isn't the most exciting channel. However, it should be a primary focus for your holiday campaigns. Here's why:
Reach mobile users
Mobile shopping is on the rise. In 2020, 31% of all retail ecommerce spending took place on mobile devices. This is a sharp increase from even just five years prior, when only 16% of ecommerce spending was from mobile users. This figure is likely to grow in the years ahead.
Increase relevance through personalization
When compared side-by-side, personalization beats segmentation every time. For example, when we worked with an athletic retailer, we found that personalized emails provided an incredible boost in performance.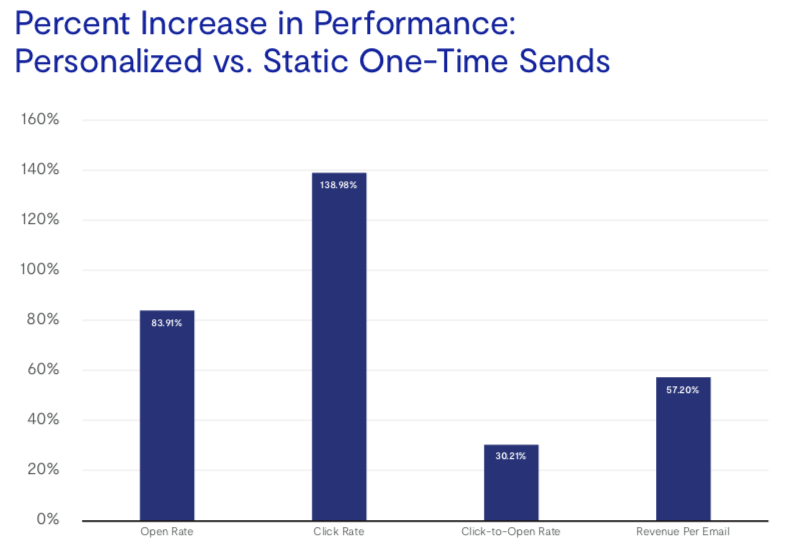 Email's robust personalization capabilities makes it the best choice for maximizing marketing spend. However, keep in mind personalization is more than just inserting the subscribers name into your email subject line. To create truly relevant emails, employ tactics like personalized product recommendations, dynamic content and individualized email send times to help your campaigns stand out.

8 Ideas to Revamp Your Holiday Email Marketing Strategy
If you're ready to take advantage of all the holiday season has to offer, it's crucial to re-examine your previous campaigns and find opportunities to improve. Here are a few ways you can get yourself holiday-ready:
1. Prepare as early as possible
No matter what you plan to do for the holiday season, it's important that you start preparing a few months before the holidays actually take place. This preparation includes mapping out campaigns and having any conversations with both internal and external teams that will be involved in your holiday marketing campaigns. The earlier and more often you can communicate with these teams, the better off everyone will be as the holiday shopping rush sets in.
2. Create new holiday-centric templates
Email creative is generally updated to play up the holidays. Seasonal site features, such as gift guides, are great to highlight as a way to engage shoppers with fresh content and spark some gift giving inspiration. Creative departments can have long project backlogs and templates can take several weeks to create, so be sure to get these in their queues early.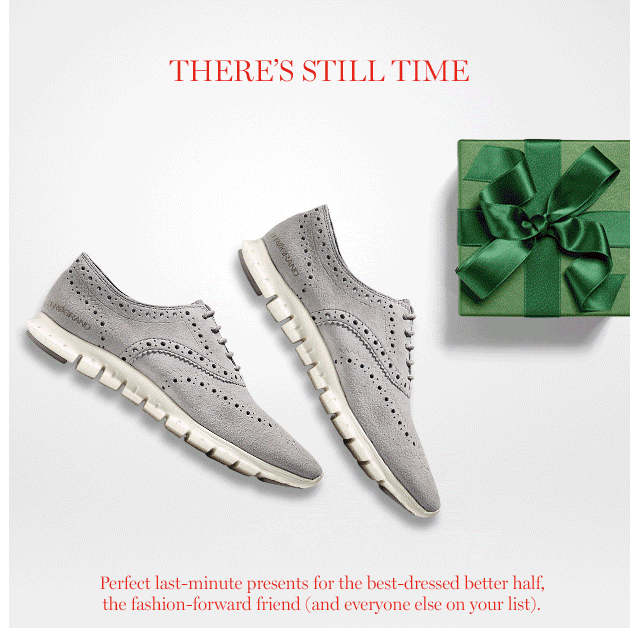 3. Intelligently increase your send frequency
Many shoppers have a long list of friends and family members to buy for during the holiday season, and as we mentioned previously, these shoppers may be buying from numerous brands they've never shopped with before. If someone shopped with you for the first time last year, do them a favor and remind them. Anniversary campaigns can be customized to be sent for any anniversary a customer has with your brand, such as their first purchase. Making holiday shopping easier is a great way to keep your brand top of mind when that time of year rolls around and is an excellent way to retain these customers year after year.
Many retailers hesitate to send too many emails – after all, nobody wants their marketing emails sorted into spam. However, if you increase this frequency in an intelligent way (i.e. through personalization that also grows engagement and/or identifies areas where you actually don't need to send more emails), you ensure your email deliverability stays consistent. Try these tips to safely ramp up your send frequency:
Personalize before you increase:

 Be sure that you've made every attempt to use personalization to improve your

email's relevance

before you hit send. Sending the right message is always preferred over sending more messages.

Be selective:

 Not everyone will tolerate more emails from your program. At the very least, start with your most engaged email subscribers and work your way back to the lesser engaged groups. Increasing the number of unengaged emails also hurts your reputation with mailbox providers, even if you're not increasing the number of subscribers.

Monitor subscriber feedback:

 Aside from looking at open rates, monitor spam reports to gauge how well received the increase is by subscribers. Subscribers going out of their way to label your message as spam is not a good sign, and you should keep those rates below 0.1% to stay out of trouble.

Pay attention to trigger emails:

Second-touch

triggered emails

are typically sent 24 hours after an event occurs, such as a cart, product, or

browse abandonment

. However, because merchandise tends to move so quickly during busy holiday shopping days, especially on

Black Friday

and

Cyber Monday

, many retailers shorten the time between events and triggered email sends. Cutting the time between second-touch events to 12 hours will increase urgency without getting sorted into spam.
Successfully improving your send frequency will increase urgency with timely holiday sales and shipping deadlines, helping you influence decisions from your target consumer.
4. Add shipping deadlines
Although receiving purchases on time is obviously incredibly important to holiday shoppers, they may not always know ordering deadlines for different shipping methods. Updating footers and headers to include these deadlines for both ground and expedited shipping is a simple and helpful way to remind shoppers. 
When doing this, keep in mind that many shoppers travel a few days ahead of the holidays, so be sure to include a sliding scale of delivery dates. Create a library of these banners with all the different deadlines you'll need ahead of time so they are easily swapped out when deadlines pass.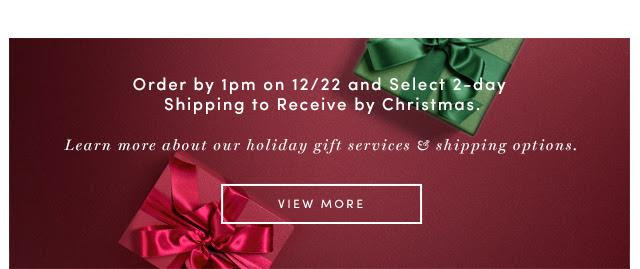 5. Expand your category-based triggers
Again, because merchandise moves quickly and many retailers introduce a variety of sales during the holidays, it can be a good idea to expand your program to include merchandising triggered emails. Here are a few to consider adding:
Low Inventory:

 

Even though you may be able to see your inventory is running low on popular products, your shoppers are left in the dark. Low Inventory triggered emails keeps them in the know and are sent to shoppers who have previously completed an Abandonment action for items that are now low in stock.

Back in Stock:

 Despite receiving a Low Inventory triggered email, some shoppers wait too long to purchase and the item they've been considering sells out. Back in Stock triggered emails are sent to those shoppers who have previously completed an Abandonment action for items that were sold out, but are now back in stock.

Price Decrease:

Because

product catalogs

are complex and always changing, ecommerce brands usually drop prices on old merchandise when new merchandise is added to the site. Price Decrease triggered emails are sent to shoppers who have previously completed Abandonment actions for full-price products that are now discounted.
6. Orchestrate holiday win-back campaigns
Because people are likely shopping for others instead of themselves during the holidays, your brand may receive an influx of first-time shoppers. Unfortunately, these shoppers don't tend to engage after the holidays, causing deliverability issues and a loss of potential revenue.
But just because their first time shopping with you was for someone else, that doesn't mean they can't shop with your brand for themselves in the future. Think of creating win-back campaigns and other incentives for these shoppers to return to your site after the holiday season dies down. Here are a few ideas to do this:
Provide valuable

welcome emails

. Your initial email to these customers should introduce them to your brand and its underlying value.

Include special offers that are only good for a post-holiday time period

Consider updating follow-ups in your

multi-touch campaigns

with language like, "Didn't get what you actually wanted?" or "Treat yourself to the gift you really wanted"

Accept that some subscribers won't re-engage and consider introducing stricter thresholds on inactivity for holiday shoppers to improve future deliverability.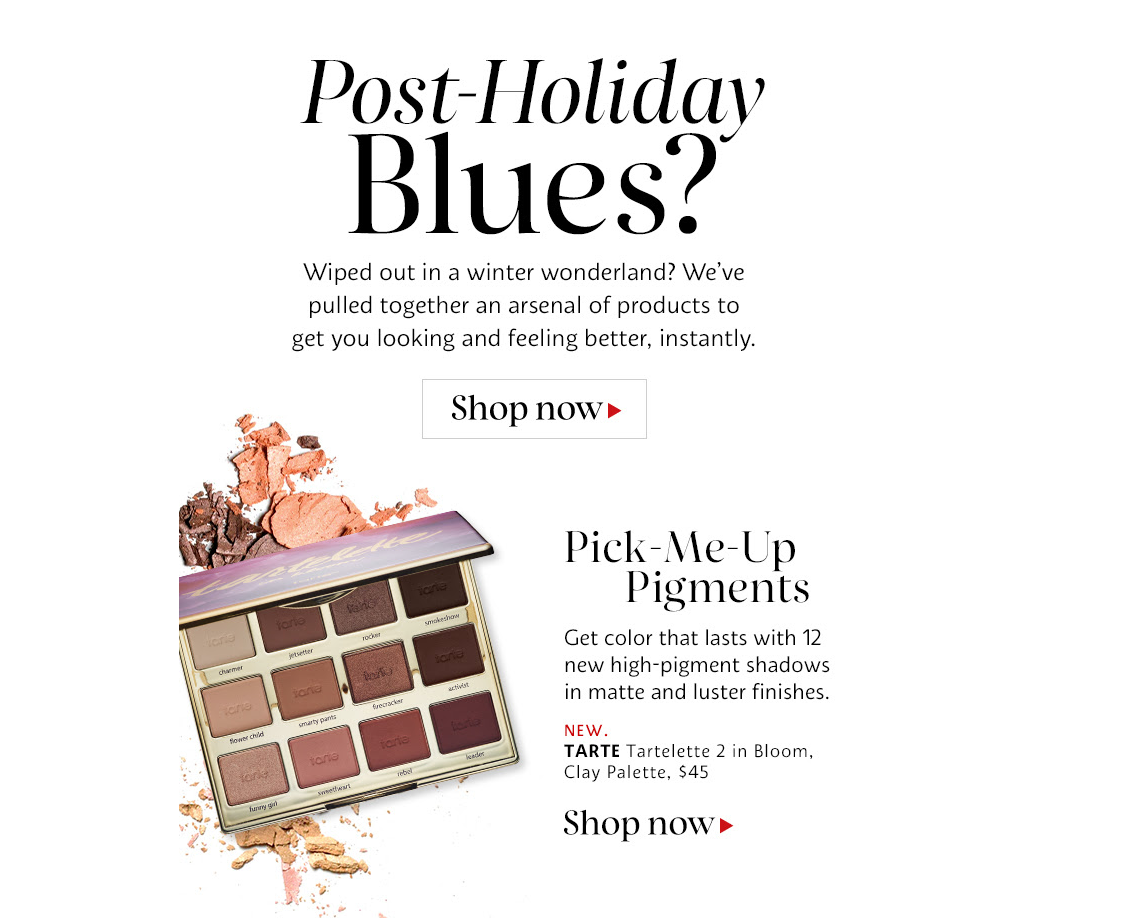 7. Strategically re-engage last year's gift-givers
Many shoppers have a long list of friends and family members to buy for during the holiday season, and as we mentioned previously, these shoppers may be buying from numerous brands they've never shopped with before. If someone shopped with you for the first time last year, do them a favor and remind them. Anniversary campaigns can be customized to be sent for any anniversary a customer has with your brand, such as their first purchase. 
It's important to reach out to these subscribers early on. Mailbox providers monitor your list quality, so you will want to keep the ratio of these subscribers to engaged ones to a minimum, and focus primarily on unengaged shoppers that may become active buyers again. Here are some tips to do just that:
Assess the quality of these unengaged subscribers: 

Hard bounces are a good metric to track how inactive those accounts are, especially if you haven't emailed them in quite some time. Consider using an email list validation service to spot these inactive accounts before you begin opening up your list.

Be selective:

 Do not just open up your list by going back to all subscribers who haven't opened an email in several years in hopes that they'll return. Look at purchase data, seasonal engagement and any other metrics available to maximize positive engagement with the right subscribers.

Treat the unengaged subscribers differently:

 Target unengaged subscribers with specific content and promotions. This group should see the lowest frequency in emails compared to your more active subscribers.

Know when to let go:

 You will not want to take all of these subscribers with you during the peak holiday dates. If you've attempted contact for weeks with no positive engagement, these dead-weight subscribers become a risk.
Making holiday shopping easier is a great way to keep your brand top of mind when that time of year rolls around and is an excellent way to retain these customers year after year.
8. Use data to learn from risky decisions
As much as you can prepare ahead of time to mitigate risks, some decisions might be difficult to avoid when your team gets into the thick of the holiday season. You should prepare for this too. Specifically, contemplate what risky practices you'll be tempted with if your holiday campaigns don't yield the desired results. Prepare for those moments by doing some research ahead of time. 
For example, if you think you may want to go back to subscribers that haven't opened an email in 3+ years, what will that look like? It's usually not pretty, but take a look at historical data to see what happened the last time something like that was done. What was the return? What were the consequences? In cases like these, advance knowledge is powerful in determining whether or not the risk is worth the reward.

3 Holiday Email Examples to Help You Get Started
Now that you have the ideas, let's give you some inspiration. Here are three retailers that have employed highly successful email marketing strategies in the past:
1. Evo Expands Order Size with Post-Purchase Cross-Sell Emails
Post purchase emails are a very simple triggered email type that many retailers use, but not to the fullest extent of its capabilities. They're designed to bring back buyers with product recommendations or best-sellers related to those they've purchased. These emails are a great opportunity to reach out to customers and have them get some great additions to their presents!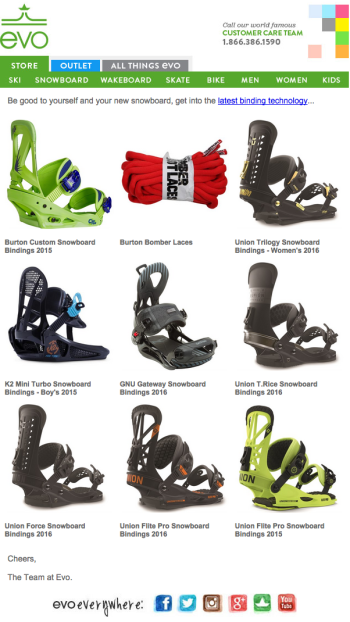 Evo uses post purchase triggered emails like these to bring customers back for bundled items that will go well with their original purchase.
For example, the evo post purchase email you see above is a great example of cross-selling to customers. The customer that received this email purchased a snowboard, but everyone knows a board without bindings and boots won't have you carving up the slopes anytime soon. By understanding the relationships between products, evo's post purchase emails will incentivize customers to make that extra purchase this holiday season.
Calvin Klein Helps Subscribers Find Presents with Abandoned Search Emails
Your customers have holiday shopping experiences cloudier than the night Santa first met Rudolph, but that doesn't mean you can't lead them straight to the presents they're looking for with Abandoned Search emails! They provide product recommendations within the category searched by customers as well as best sellers, making them a great tool for staying top of mind during the busy holiday season.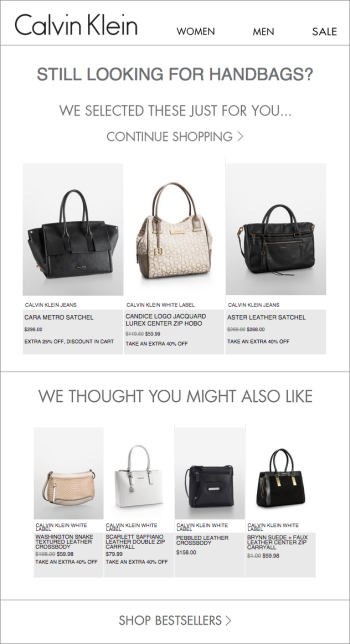 Take a look at this abandoned search email from Calvin Klein. The customer searched for handbags, but never made a purchase. This email was sent four hours later with recommended handbags and best sellers. It's a great example of how Abandoned Search can take customers who didn't get as far as the online check-out counter and bring them back for more.
These abandonment emails were a boon for Calvin Klein. Open Rates were twice as high on Cyber Monday and 68% higher on Black Friday. Further, Abandoned Search emails delivered on Cyber Monday were 82% more likely to be clicked through and 122% more likely to result in a purchase. All of this came with 114% more revenue-per-email than the average day.
Diamond Candles Designs Emails for Window Shoppers
So, what about those customers who get as far as a product or landing page, but don't make a purchase on your site? Marketers should ensure that window shopping emails are a part of their triggered holiday emails to retarget their customers.
Take a look at this example window shopping email from Diamond Candles. The customer viewed the Tropical Retreat candle, and this email uses popular candles in similar categories for product recommendations.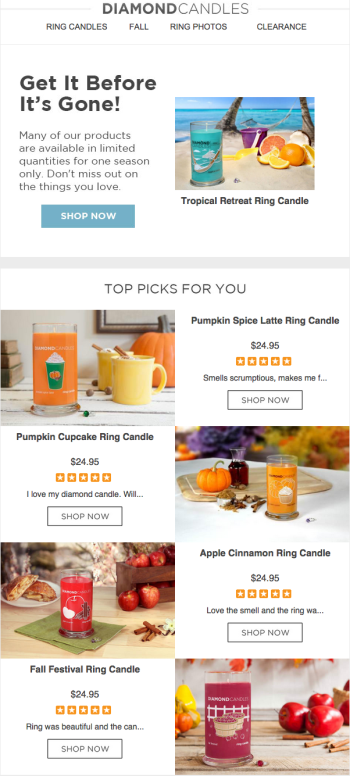 What does the data say? Window shopping emails will do best on Cyber Monday. These emails were 52% more likely to be opened on Cyber Monday, and 58% more likely to be clicked through. Conversions were most likely to occur on Cyber Monday for these emails as well.
Final Thoughts: Keep Engagement Top-of-Mind During the Holidays
It's simply a matter of fact that brands of all kinds will increase send volumes and frequency during the holiday season. This can make it difficult to stand out, but a great holiday email marketing strategy will help you stay top-of-mind into the new year.
Now that you have the strategy down, it's important to focus on execution. That's why we've put together a comprehensive Holiday Playbook to guide your team through this hectic season. For more fresh ideas for your email and on-site campaigns, download the eBook today.