An AI-Driven Product Recommendation Engine Created for Retailers
Stay a step ahead of the competition by instantly responding to customer needs using Bluecore's product recommendation engine.
Request a Demo
Custom-Tailor Your Recommendations to Each Individual
Use the power of artificial intelligence and 1:1 personalization to deliver relevant product recommendations that align with an individual shopper's needs, as well as your merchandising strategy. Whether you need simple or complex rules for your recommendations, Bluecore grants you the power to drive retail relevance.
Surface Latent Customer Needs
Retailers need to ensure online shoppers find what they're looking for. If your online store has hundreds or thousands of daily visitors, you need technology to identify and satisfy their needs.
Get an 87% lift in purchases with Bluecore's recommendation engine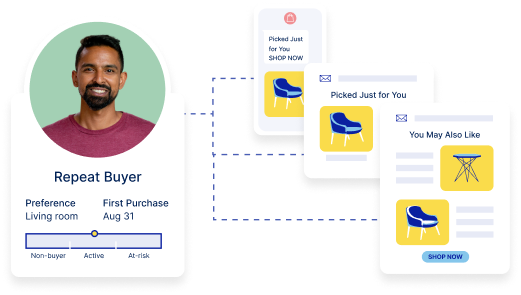 Provide 1:1 Personalization for Every Visitor
By analyzing customer, behavior and product data, you can uncover who a customer is, what motivates them and which products will satisfy their needs – all on an individual level.
Improve revenue by 72% through relevant, personalized experiences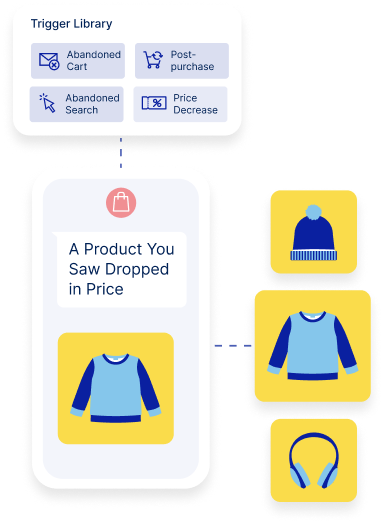 Save Time with End-to-End Automation
Automation and machine learning will help you collect data and deduce important insights. Then, it's simple to set up triggers that will automatically deliver relevant product recommendations.
See an 85% reduction in campaign production time using automation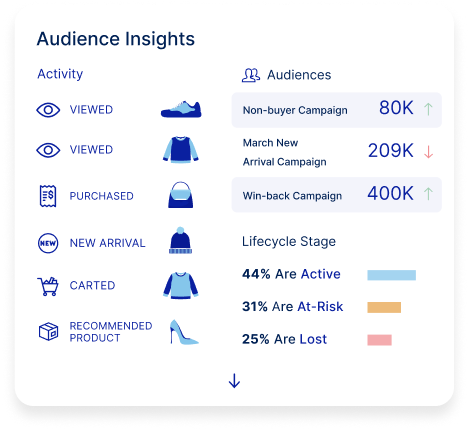 Take Immediate Action with Near Real-Time Data Processing
Marketers need to have the most recent and relevant customer, behavior and product data available at their fingertips. When fresh, real-time data is accessible by your recommendation engine, your marketing team won't be beholden to merchandisers or technologists.
Use the power of a solution that processes over 1 billion data points daily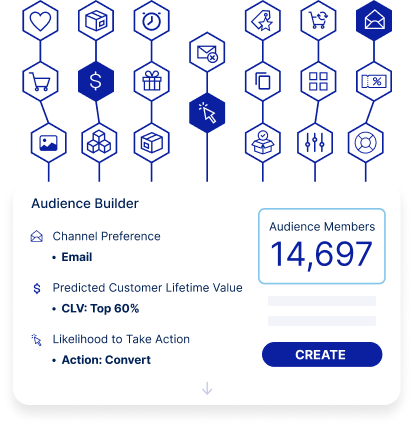 Use Event-Based Triggers to Fuel Your Strategy
Event-based triggers help retailers react to certain activities immediately. Our personalization engine supports behavioral and merchandising triggers, helping you create and capitalize on consumer demand.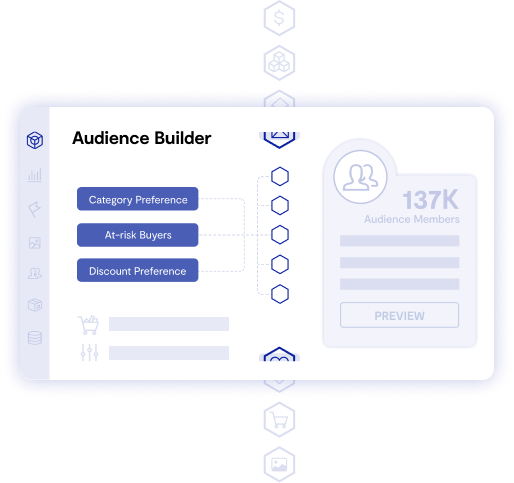 Work with tried-and-true workflows – or define your own rules
Gain access to advanced, customizable recipes to easily deliver personalized product recommendations. You'll have complete control over which individuals receive recommendations using flexible, sophisticated targeting techniques. Here's a sample of what's available:
Best Sellers

Flaunt your most popular products, customizable by product attribute.
Effective for a wide variety of audiences and can function with limited customer or behavioral data.

Interaction History

Target customers based on the items they view, cart, purchase or search for.
Ideal for preventing browse abandonment.

New Arrivals

Show customers new products, with the option to narrow the recommendation by category, product attributes and more.
Helps shoppers become aware of new, relevant products in the categories they love.

Next Best Purchase

Use machine learning to evaluate troves of customer, behavior and product catalog data and deliver recommendations on a 1:1 basis.
Finds creative connections that aren't intuitive to the human mind.
Product Recommendation Engine FAQs